It is 3 years in the future but no less exciting for that. In 2019 Royal Liverpool Golf Club will be the venue for the Walker Cup match. The 47th biennial contest that pits the amateurs of Great Britain and Ireland against those of the United States will be played in September of the year in which Royal Liverpool also celebrates the 150th anniversary of its foundation.
The return of the Walker Cup is a reminder of Hoylake's pivotal role in the history of the amateur game. In 1921 the links were the setting for a match between the USA and Great Britain – a seed which blossomed into the Walker Cup proper in the following year when the first official  match was played at the National Golf Links of America in Southampton, New York.
After World War I there was much discussion in the USA and Great Britain about ways of inspiring interest in the game on both sides of the Atlantic. In 1920 the USGA Executive Committee had been invited to Great Britain to meet with the Royal and Ancient Golf Club of St. Andrews Rules Committee to discuss possible changes to the rules of the game.
Among the American contingent was George Herbert Walker, USGA President. When Walker and his colleagues returned home international team matches were discussed. The idea so appealed to Walker that he soon came up with a plan and offered to donate a trophy. He had been a low handicap player and was keen to promote the game. When the press dubbed the trophy the Walker Cup, the name stuck and the rest is history.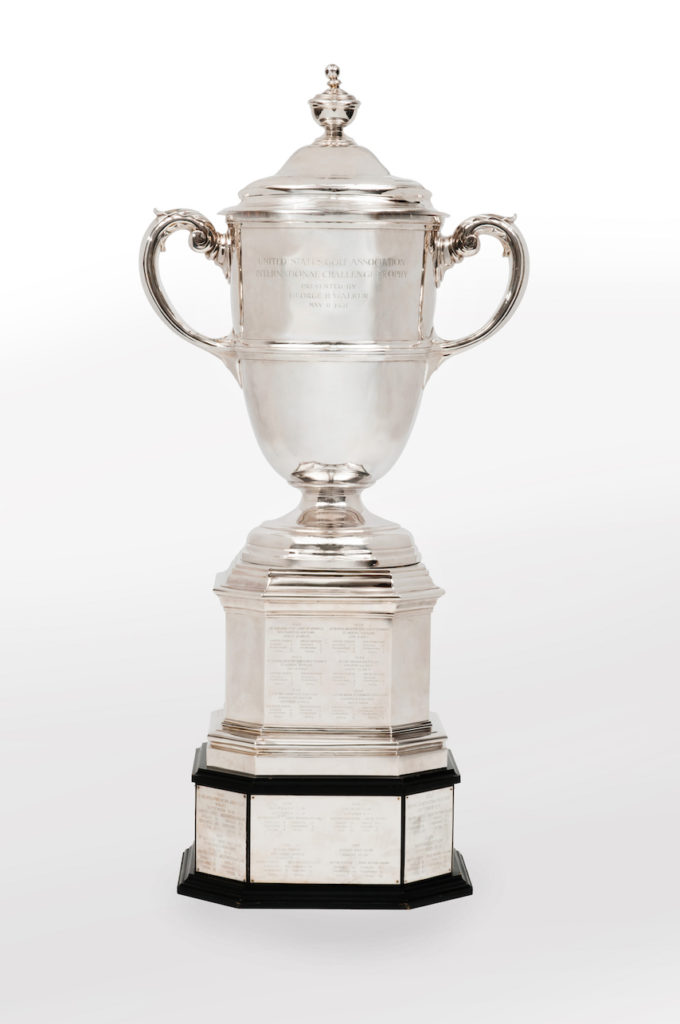 However, in 1921, when the USGA invited all golfing nations to send teams to compete for the Cup, no country was able to accept that year. The Americans didn't abort their mission and William C. Fownes, the 1910 U.S. Amateur champion, who had twice assembled amateur teams that played against Canada in 1919 and 1920, rounded up a third team in the spring of 1921.
This team included Charles 'Chick' Evans, Francis Ouimet and Robert T. Jones. Its destination was Hoylake. The opposition was a British team captained by Robert Harris. Though the match, staged the day before the British Amateur, was informal, it was no doubt contested keenly – the Americans emerged victorious, 9 and 3.The Walker Cup was last staged at Hoylake in 1983.
Captained by Jay Sigel, the USA team beat Charlie Green's GB&I team 13 ½ – 10 ½. Royal Liverpool is proud of its past and excited by the future. In 2019 the Club will celebrate a 150 year contribution to the history of the game, reflect on the chapter that was written in 1921, and give the warmest of welcomes to some of the finest amateur golfers in the world.