An open air cinema season is being launched at West Kirby's Ashton Park this summer.
Recent releases and cult classics will be screened for film lovers, who are invited to pull up a deckchair on the grass for the 'Moonlight Flicks' event, which takes place over 6 nights.
It is organised by Storyhouse, the Chester-based arts organisation which produce the award winning Grosvenor Park Open Air Theatre and city's Literature and Music Festivals.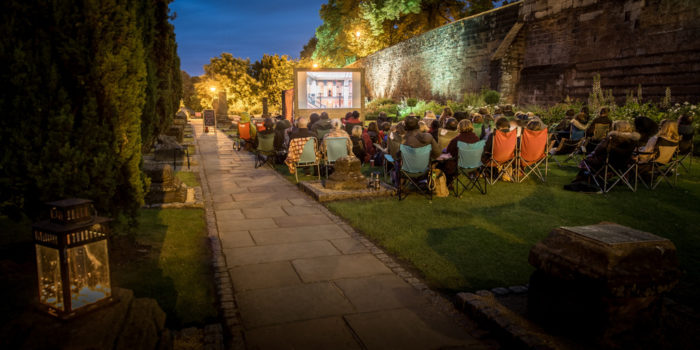 Alex Clifton, Artistic Director of Storyhouse, said: "Moonlight Flicks has been so successful in Chester that we wanted to take it into the region. We're really looking forward to welcoming some new audiences to screenings."
Between 5th – 14th August cinephiles can enjoy a range of movies screened on a 15 foot screen in West Kirby's Ashton Park.
The programme includes 80s classic Dirty Dancing, post-apocalyptic sci fi Mad Max Fury Road, family favourite Inside Out, silent movie The Artist, romantic drama Brooklyn, all time rom-com classic Philadelphia Story and action blockbuster Jurassic World.
Picnicking is encouraged during the outdoor screenings and moviegoers can order pizza to be delivered to them.
Moonlight Flicks uses headphones to stream the movies audio to ensure maximum sound quality. As well as screenings in Wirral's Ashton Park the season will tour to Castle Park in Frodsham and Roman Gardens in Chester.  Based on last year's successful season it is expected that over 5,000 people will attend the season.
 Ashton Park Listings
The Artist (PG) Friday 5th August 8.15pm/dusk
Jurassic World (12) Saturday 6th August  8.15pm/dusk
Brooklyn (12A) Sunday 7th August 8pm/dusk
Philadelphia Story (U) Thursday 11th August 8pm/dusk
Dirty Dancing (12) Friday 12th August 8pm/dusk
Mad Max : Fury Road (15) Saturday 13th August 8pm
Inside Out (U) Sunday 14th August 8pm/dusk
Tickets start are priced from £8.50, under 12s go free. To book and find out more visit www.storyhouse.com/moonlightflicks