West Kirby Grammar School and Calday Grange Grammar School have been ranked in the top 150 schools in the UK.
According to the Sunday Times, the schools were ranked 110th and 131st in the whole of the country.
This 24th edition of the Parent Power guide identifies the 2,000 highest-achieving schools in the UK, ranked by their recent examination results.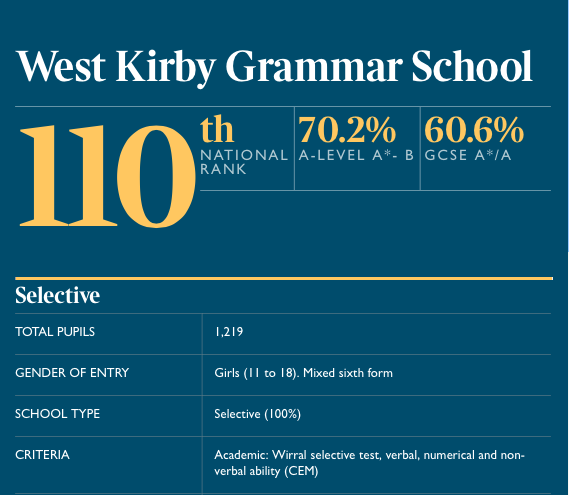 The news comes only a week after it was revealed that local state school, St Bridget's C of E Primary School in West Kirby, was the best performing state primary school in the whole of Merseyside.
Headteacher of West Kirby Grammar School, Alison Duffy, said: "We are delighted with our students' successes and congratulate them and their families on their tremendous achievements.
"Our success is also being seen by a large intake of students into our Sixth Form this year and applications for September 2017 are now being made.
"WKGS prides itself on its academic success, but also the wider education of students to prepare them fully for higher education, apprenticeship and work."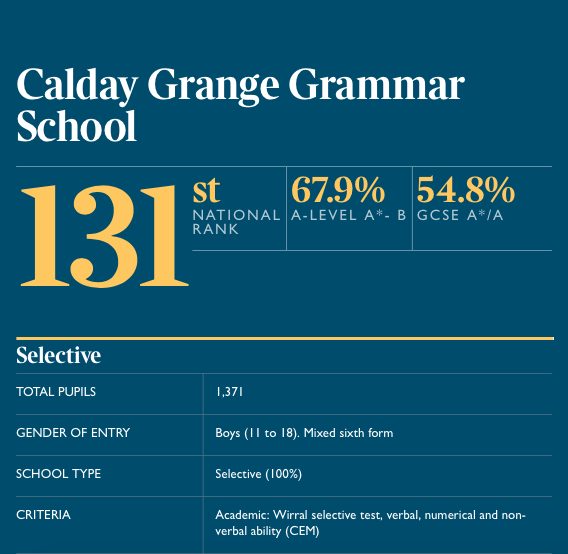 Governors, staff, students and parents have worked hard to maintain and improve upon the historically high academic standards that the school has a reputation for.
Mark Rodaway, head teacher of Calday Grange Grammar School, said: "Whilst all league tables must be treated with caution, The Sunday Times Parent Power guide is testimony to the school's focus on improving academic outcomes for all our students.
"Our ranking of 131 out of 3824, places us in the top 5% of state secondary schools in England, Wales and Northern Ireland."
He added: "However, we are not an examination factory. It is important to recognise that the Mission Statement of the school places an emphasis on developing the 'whole student'.
"We provide an extensive range of opportunities for students to develop those key skills much valued by employers, and society.
"Evidence of this focus is demonstrated by the notable alumni of the school. Dougal Wilson (creator of the John Lewis adverts), members of the group Clean Bandit, Steve Cummings (Tour de France stage winner), Sam Quek (Olympic Gold Medallist Hockey player), Philip May (Prime Ministers husband), Tom Rodgers (professional stunt man and guest speaker at this year's awards ceremony) all benefited from a Calday education."
Other Wirral schools mentioned in the guide include, Wirral Grammar School For Girls (ranked 52nd), The Sixth Form College, in Birkenhead (ranked 61st), Birkenhead School (ranked 84th), Wirral Grammar School for Boys (ranked 178th), Upton Hall School FCJ (ranked 187th) and Birkenhead High School Academy ( ranked 396th).
You can read the full guide here (please note you will need a subscription to The Times to view) http://extras.thetimes.co.uk/web/2016/bespoke/parent-power/index.html