When Hoylake lifeboat coxswain Dave Whiteley talks about being awarded a British Empire Medal in the 2016 New Year's Honours, the first thing he does is pay tribute to his crew.
He has served the RNLI at Hoylake for 40 years, risking his life in all weathers to go to sea and save lives.
But it is typical of the unassuming mindset of the RNLI that Dave is quick to turn the spotlight onto those who have served alongside him.
"It has been a privilege to be recognised for this honour. It recognises the hard work of the crew and all the volunteers who help save lives at sea," he told West Kirby Today.
During his service, the Hoylake lifeboat has saved more than 150 lives. Dave has risen through the ranks from crewman, eventually becoming coxswain 15 years ago.
It is a job that takes an enormous commitment, on call around the clock, seven days a week, prepared to drop everything at a moment's notice to take part in a rescue.
And he has to carry this weight alongside family responsibilities and his full time job at the Stanlow oil refinery.
"When you've got to go you've got to go. It is a very big commitment that you give," he admits.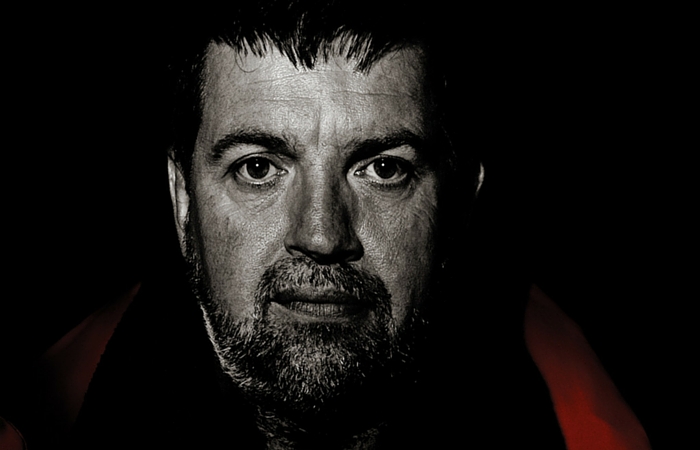 It requires a huge level of personal dedication – and a very understanding wife. Dave and Julie, the mother of his three children, celebrated their 30th anniversary last September.
"It hasn't been easy for her," he recalls. "Once when my pager went off I left my wife at a supermarket checkout with a full trolley and three young children, one walking, two in pushchairs.
"I took the car keys and left her with no money. She does well to stay with me!"
Serving the RNLI runs in Dave's blood. He followed his father, Reginald 'Tank' Whiteley onto the Hoylake lifeboat.
"My Dad served for 55 years. He passed away last year but was a serving crew member into his 70s," says Dave.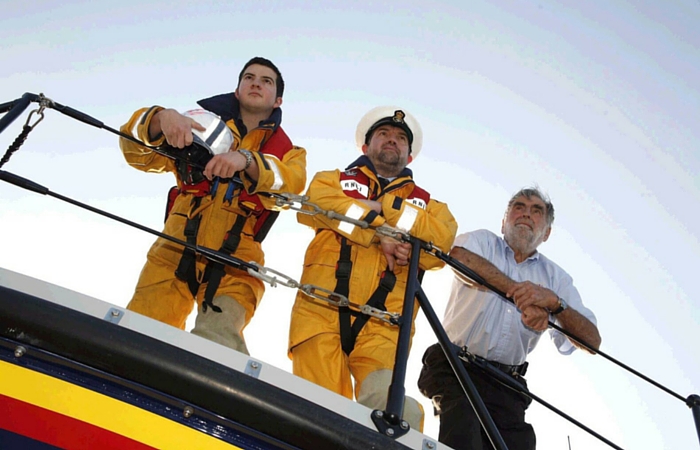 Tank Whiteley was on the Hoylake lifeboat crew for 41 years and the West Kirby crew for five. As he got older he became a shore helper, and was a Deputy Launch Authority when he retired in 2003.
In retirement he remained a regular visitor to Hoylake lifeboat station during exercises and operations, to make sure there was a cup of tea or a hot soup waiting for the crew on their return.
Dave was born at Heswall Hospital, and lived in West Kirby until he was five, when the family moved to a new home on Hoylake promenade.
Tank had his own fishing boat, on which Dave used to help out as he started his career at Shell's Stanlow oil refinery in his mid teens.
"I joined up with him on the lifeboat at 16 and it grew from there. I worked my way through the ranks as a navigator and mechanic, second coxswain and eventually coxswain."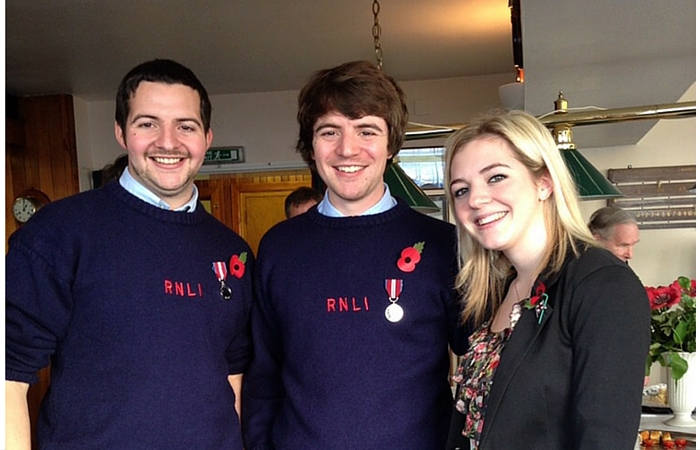 When Dave married, he and Julie set up home in West Kirby, but seven years later they moved back to Hoylake to their current home in Cable Road, just behind the original lifeboat station.
"House prices are expensive but we managed to get a very run down house at a good price. We never looked back," he recalls.
"I love it here. The prom is lovely, especially when the tide is in.
"It is great walking up into the high street. There is a raft of restaurants, bars and good shops, and the high street is a great place to be.
"I am a member of Hoylake rugby club and played for them, as did my father and son James.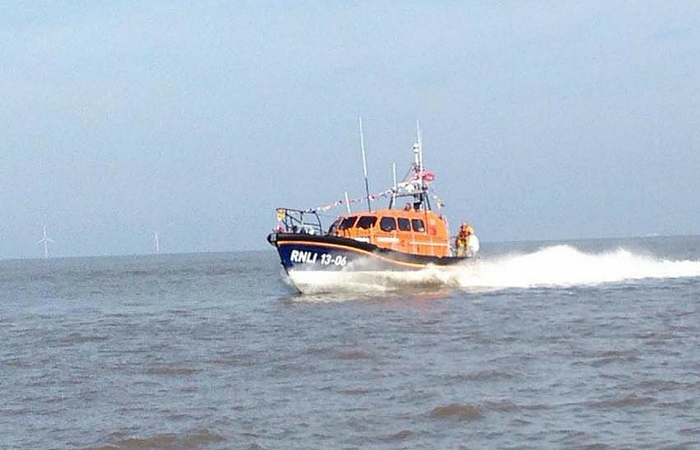 "I used to take my dad to the Plasterers Arms. We like eating in places like the Monte Carlo, Pepper Sauce, Steak and Lobster, and Julians.
"In the Vanilla Bar they have a fantastic picture on display of James, my Dad and me, all in our life jackets. James and I took my Dad in there in his wheelchair to see it."
Now Dave's older son James, 28, serves alongside him on the Hoylake lifeboat crew, as did younger son Dan, 26, until he moved to a new job in London.
Daughter Rosalind, 22, an administrator at the sea school in Hoylake, and wife Julie have been massive supporters of the RNLI, working to help with fund raising activities and open days at the lifeboat station.
Fund raising is always vital to the RNLI, and the people of Wirral have always responded, particularly over recent years when they raised £1.7m towards Hoylake's new £2.5m lifeboat house.
"There is a great community spirit here and the way people responded to our appeal was fantastic," says Dave.
With private bequests funding the £2.5m state of the art Shannon-class lifeboat the 'Edmund Hawthorn Micklewood', and a £1.5m tractor to launch it from, Hoylake has never been better equipped.
And modern technology, notably GPS navigation, has been a huge step forward in terms of helping the crew to carry out rescues.
"Technically you now have a fairly good idea where you are going," says Dave. "When I started out it was by compass, radio and a fair degree of guesswork. Red flares were often what we steered by."
One of the toughest rescues Dave took part in came in August 1992, as a Polish yacht got into difficulties sailing towards Liverpool for the Tall Ships Race.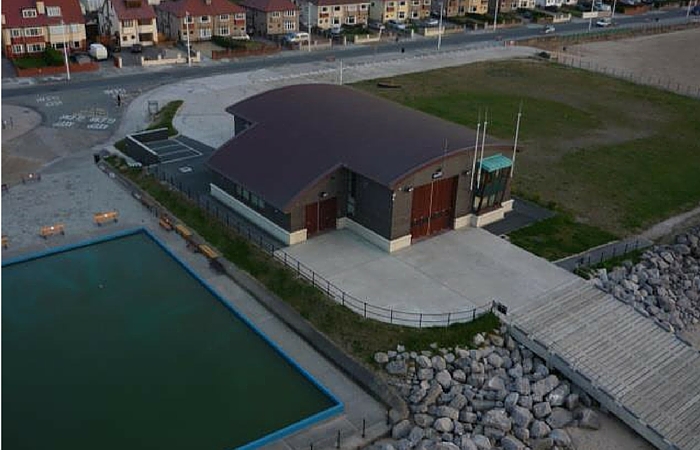 Dave, who was navigator on the Hoylake lifeboat the Lady of Hilbre at the time, recalls: "It was blowing a full gale. We had reports of a vessel struggling with engine and sail damage.
"We launched to rendezvous with it but the location we were given was well off the mark. We thought it was off the Mersey Bar but it was somewhere off the Anglesey coast, out in a full storm."
After trying for hours to rendezvous with the yacht, the lifeboat eventually had to shelter in Mostyn harbour to await its approach.
"Then, just as we managed to rendezvous, its engine failed, and it looked like it was going to get dashed on the sea wall. We managed to get a line aboard just in time.
"It was a very long and arduous job, in very bad weather."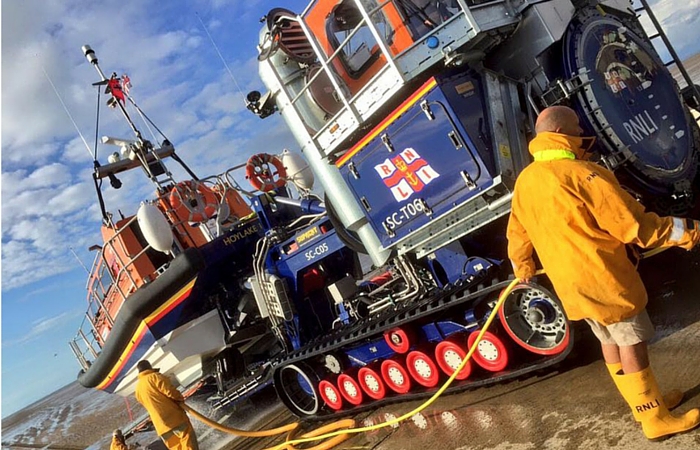 Former Hoylake Coxswain John McDermott and the whole crew were congratulated by the RNLI for fine seamanship and professionalism after that operation.
Dave makes it sound matter-of-fact, and it takes some pressing to get him to acknowledge the inherent bravery it takes to crew a lifeboat.
"The lifeboats are so well built, and the Shannon we have now is tremendous and a fantastic vessel to handle," he says. "The training package is very comprehensive these days, too.
"Of course there is some danger in our job. As a lifeboat person you are going out in weather where as a commercial boat person you wouldn't dream of going out.
"But it is what we do and part of the job. The Hoylake lifeboat has never failed to respond to a shout in 200 years."