A planning application has been submitted for a £150,000 refurbishment of Wirral Sailing Centre, in West Kirby.
The plans include a new glass-fronted cafe, which will be open to the public and will have views across the Dee to Hilbre and Wales. There will also be a new reception, multi-purpose training areas and a drying room.
The project comes after Wirral Council won a Sport England grant to refurbish the sailing centre, opposite Morrisons car park, to help it meet its pledge of getting more people active.
Over recent weeks, preparatory work has begun and a planning application for the full project has been submitted.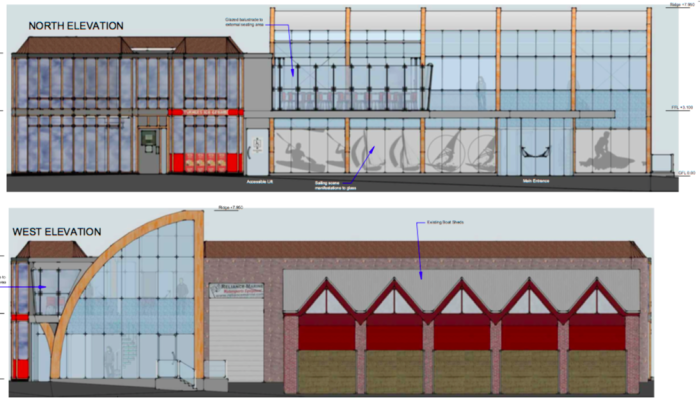 Cllr Chris Meaden, Cabinet member for Culture and Leisure, said: "West Kirby Marine Lake is one of the jewels in Wirral's leisure portfolio. It hosts regattas, national and international windsurfing and sailing events and through the Wirral Sailing Centre offers local people the chance to get out on the water.
"West Kirby residents told us how important the Sailing Centre is to them – with local schools, youth groups and families taking advantage of this great facility. We listened, and by winning this grant we are able to upgrade the facilities to allow more local residents to get involved.
"We want more people, particularly children, to get out of the house and get active. It will help them feel fitter and enjoy more of the great leisure offer we have on Wirral. Our 2020vision pledge is to provide leisure facilities for all and help residents live healthier lives."

Wirral Sailing Centre is based at West Kirby Marine Lake and offers a full range of water sport activities, with courses available for all ages and levels of experience.
As well as sailing, windsurfing, kayaking and power boating, activities on offer at the centre include stand up paddle boarding, team building , cycling and the very popular Hilbre Explorer Boat Tour. The 52 acre lake is totally enclosed and mainly non-tidal, making it an exceptionally safe facility and a perfect environment for learning.
Wirral Sailing Centre is among 148 local sports projects to secure a share of £10 million of National Lottery funding from Sport England's Inspired Facilities fund. Since 2011, Inspired Facilities has been helping improve community sports facilities and converting existing buildings into venues suitable for grassroots sport.
Sport England Property Director, Charles Johnston, said: "The Inspired Facilities Fund has had a huge impact on grassroots sport across the country. Since 2011, we've invested £94 million into more than 1,800 projects to improve and refurbish sports clubs and transform non-sporting venues into vibrant community sports clubs. It's great to see Wirral Sailing Centre join the long list of successful clubs to benefit from this fund."