West Kirby lawyer Lee Quinn has started a gruelling three week programme of heat chamber training as he makes his final preparations to take part in the world's toughest endurance foot race.
And West Kirby Today went along to see Lee go through his paces in the high-tech environmental chamber at Liverpool's John Moores University.
Next month 40 years-old Lee flies to Morocco to take part in the Marathon des Sables (MdS), a brutal six day, 160 mile ultra-marathon through the Sahara desert.
Lee, of Mostyn Avenue, West Kirby, has been training intensively for months, and ran with his wife Amy in his latest event, the Liverpool Half Marathon, at the weekend.
His nine sessions in the heat chamber over the next three weeks will condition him for the extreme heat his body will have to cope with in the MdS.
Supervising his conditioning is Professor Ben Edwards, Senior Lecturer in Chronobiology and Environmental Physiology, Sport and Exercise Sciences at LJMU, who runs the heat chamber, one of only four of its kind in the country.
The state-of-the-art £300,000 environmental chamber can simulate some of the most inhospitable environments on the planet, from the searing dry heat of the desert to the humidity of the jungle, the icy cold of the Arctic and the thin, high altitude air of the Himalayas.
For his training, Lee runs at 40C on a curved treadmill, carrying on his back the full weight of kit,including sleeping bag and food, that he will need to carry in the race, at the 10km an hour pace he will be aiming for in the Sahara.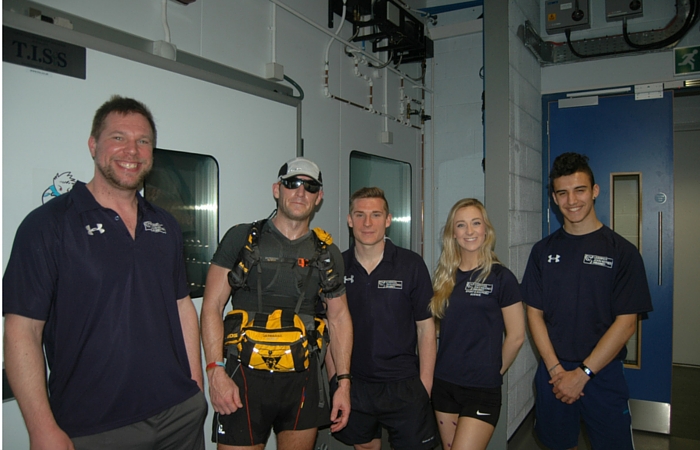 Aided by a talented team of student helpers, Ben closely monitors Lee's body temperature, heart rate, weight and fluid intake during the sessions.
Said Ben: "Human DNA is like spaghetti. If you are not adapted to the conditions before you go, your brain heats up to above 40 to 42C and your DNA starts to unravel. You get into heat stroke and cellular death.
"At the end of the nine sessions Lee will be able to run at 10k an hour with his full kit on at 40C with a core temperature rise of only 1C. He will be pre-programmed for the desert."
Ben, 42, is no dry academic in these matters, having twice taken part in the MdS himself, and having run Everest, Arctic, and Brazilian jungle endurance races. But the science behind the training is remarkable.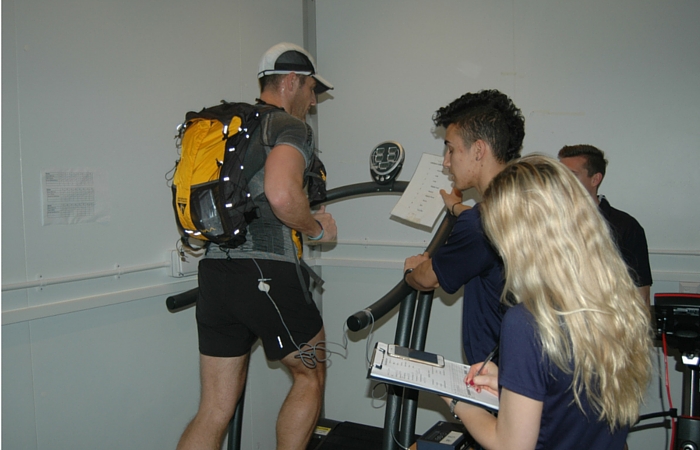 "Lee's sessions here will last him for about 40 days, and when he has run the MdS it will leave a genetic modification in his brain which will mean he will be adapted for running in the desert for about two years," explained Ben.
Said Lee: "I visited the chamber last year just to see what it was like. Today was a bit different, and a bit easier because last time I was over a stone heavier and a lot more nervous!
"I would like to thank a lot of people who have helped me prepare for this. I am so grateful for all the support I've had."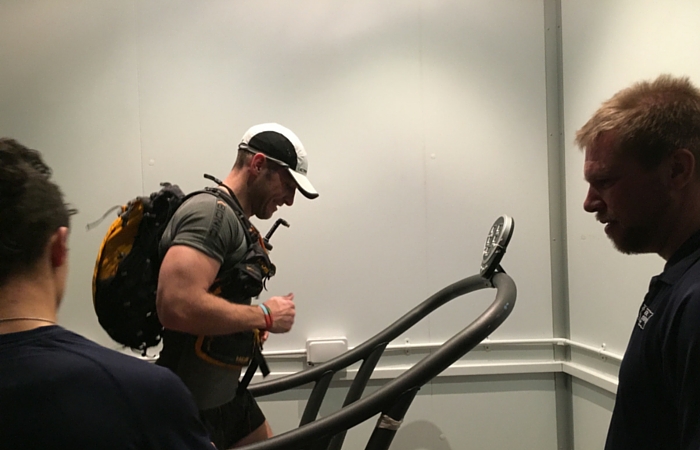 He says he is feeling well prepared for next month's challenge, aided by having teamed up with other competitors to share their experiences and black humour on a new Facebook page called The Camel Club. (The MdS runners are followed by a camel, and if it catches you up, you are eliminated.)
"I am ready for the MdS now. I feel like I have done all I can in terms of training, and I am at a stage where I just want to get it done."
As we reported last month, Lee is running the MdS to raise money for the Neuroblastoma Society, a charity aimed at tackling a cancer that mainly targets young children. You can sponsor Lee on his Just Giving page here.