Comedian and marathon man, Eddie Izzard, paid a surprise visit to pupils at a West Kirby school this week.
Izzard, who raised more than £1m for the Sport Relief charity after running 27 marathons in 27 days across South Africa, dropped in to hold a Q&A session at St. Bridget's C.E. Primary School on Monday.
The visit came after pupils chose to help Eddie Izzard out with his incredible '27 marathons in 27 days' challenge.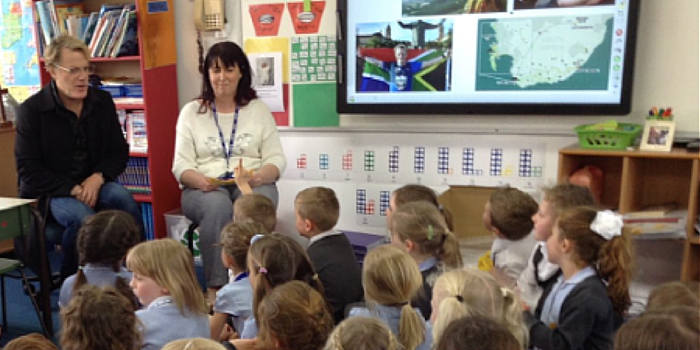 Miss Bowler, the PE coordinator, said: "We decided that every child in the school would take part in a running challenge to complete as many 100m laps of the playground as they could.
"Some of our junior children had the fantastic idea that all of the children could donate money to wear crazy hairstyles that day and so the idea of a Mad March 'Hairs' race was born.
"The children's laps were combined across the whole school and the total was the equivalent of over 12 marathons! We tweeted pictures of the event to Eddie Izzard to let him know we were thinking of him every step of the way during his 27 marathons, in the hope that it would inspire him to keep on going."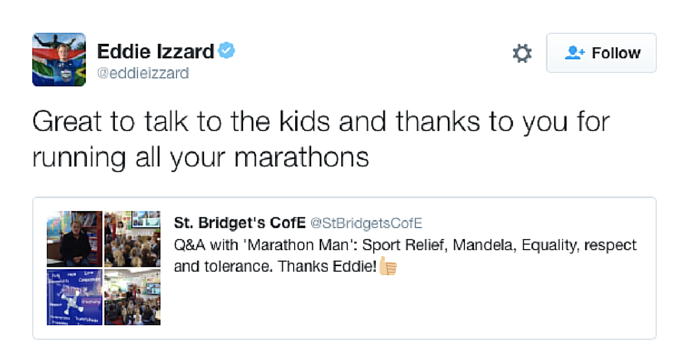 During the Q&A, the pupils asked how sore Eddie's feet were, whether he believed he could actually complete the challenge and his thoughts about Nelson Mandela.
Eddie explained his motivation for doing the marathons and how important it was in life to keep on going when things got tough. He also spoke of his enormous respect for Nelson Mandela and his ability to forgive the people who had incarcerated him.
Miss Bowler added: "During our earlier discussions about Apartheid in our PSHE lessons, the children were absolutely befuddled and disgusted that there was ever segregation of people based on the colour of their skin.
"They thought the concept was totally ridiculous and unacceptable. It was one of those moments when you realise the power of education and the amazing legacy of campaigners such as Nelson Mandela."
Following on from the school's marathon challenge, they are now working on a new campaign called 'Send my friend to school', which focuses on the millions of children in the world who are not able to access education.