Each year on 26 December, hundreds of people gather on the beach outside of the Sailing Club at midday, to watch a tug of war competition between the Hoylake Sailing Club and the Hoylake Lifeboat Station, as a bit of fun to raise money for the Royal National Lifeboat Institution.
The event, also known as the Slater Trophy Boxing Day Tug o'War, has been running since 1972 when it was instigated by Arthur Slater (Hoylake Sailing Club) and Danny Triggs (then Coxswain of the Hoylake Lifeboat).
A grubby white handkerchief, a rope from Arthur's lorry and a piece of wood set the scene for what is now a firm festive fixture for the local community.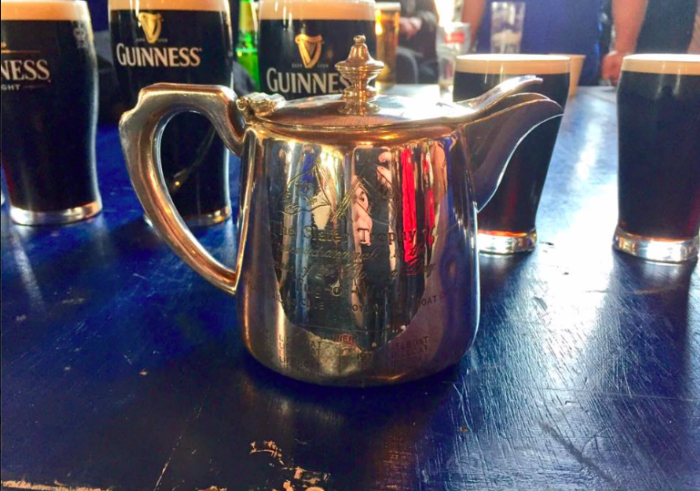 This year, the team from Hoylake Sailing Club were presented with the prize by Arthur's wife, Terry Slater, with almost £700 raised for the RNLI.
The prize-giving was held in the Sailing Club with the losing team awarded half pints of Guinness and the winning team receiving full pints along with the Slater Trophy.
The Slater Trophy itself started life as a teapot in the boardroom of Cammell Laird shipbuilders while the UK Polaris programme's Resolution-class submarines were being built in Birkenhead. The teapot was thrown out, dented and dull, into a McDermott's sprout box, which made its way back to Hoylake with other empty boxes. After the inaugural tournament in 1972, the teapot was found, polished and engraved by Teddy Gaskin and was presented to the winning team.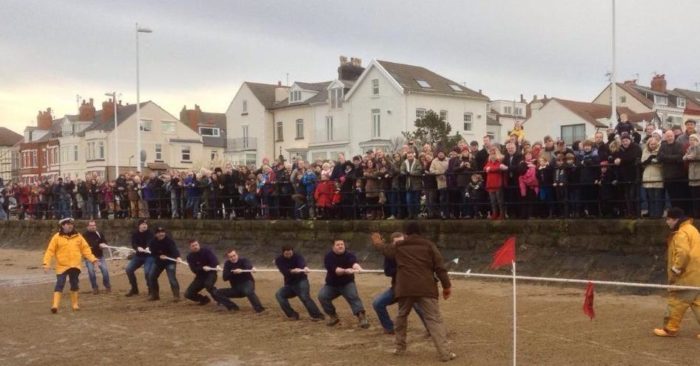 Although this year marks the 45th year it is only the 39th Tug o'War event. This is because alternative events were held such as, football in wellies and rowing races. A cancellation of the event occurred due to weather conditions in 2011, when the beach was completely frozen over.