The expertise of a West Kirby finance company has helped a Chester-based farm machinery specialist to target overseas expansion and a new factory, courtesy of a £230,000 funding package.
Spread-a-Bale, situated on Thornton Science Park, offers a range of agricultural equipment which can be used for spreading bales of straw, up to 700kg in weight, on farms.
Its latest light-weight range of machines, which will be launched soon, provides a much more efficient solution for farmers around the UK, and abroad, says Spread-a-Bale managing director, Michael Hughes.
"It is a niche product for the agricultural market and now renewable energy markets," he said.
"Our machines are unique with lots of USPs (unique selling points) and patent protection, making farmers more efficient by using less straw, and less labour," he added.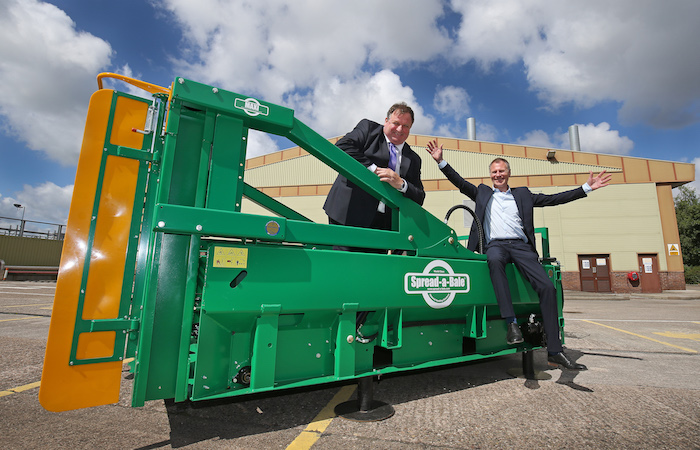 Mr Hughes said the new lightweight machine is ideal for the majority of farmers who have smaller capacity loaders, which make up around 80% of the livestock farming sector.
This is equivalent to more than 85,000 prospective customers in the UK alone.
And while the company has exported agricultural equipment for the past 15 years, it is now embarking on significant overseas expansion, particularly in the North and South American markets.
Mr Hughes said overseas sales currently account for around 33% of Spread-a-Bale's total turnover, but he believes this could soon increase, to the point of overtaking the firm's UK sales levels.
"Sales in the UK are going very well, but we are expanding into North America and Spain and we have just sent a container to Australia and possibly one to Chile."
He added this could mean a new manufacturing operation at their Thornton Science Park headquarters: "Our intention is to set up a new factory in Chester, which could create up to 12 jobs over the next three years."
With strong demand at the start of 2017 for both exports and UK sales, Mr Hughes was keen to ensure the company had enough funds in reserve to handle the growth in business, particularly with an increase in customer sales on credit terms. And he needed to set up the new financial facility within two weeks.
Professional advisors to Spread-a-Bale were MC Vanguard who worked with West Kirby-based Bathgate Business Finance to find a funding solution.
Bathgate's business development manager Ian Adams was able to introduce Mr Hughes to Chester-based finance provider Zodeq, which specialises in invoice financing.
This can unlock cash that is tied up in unpaid invoices, and was seen as the most appropriate option for Spread-a-Bale.
Bathgate Business Finance also helped in negotiations with Spread-a-Bale's existing lenders which led to a total financial package for the firm of £200,000 of invoice financing, and a £30,000 loan.
Ian Adams, of Bathgate Business Finance, said: "It was great to have the opportunity to help Michael find the right solution to fund the expansion plans and we are very excited by what the future holds for the business."