Students and staff across West Kirby are celebrating another year of exceptional success with their A Level results.
The results end two years of hard work and commitment from students, staff and parents in the face of national changes in specifications and increased course rigour.
At West Kirby Grammar School, which was recently named the best school in Merseyside, 100% of students gained three or more qualifications.
Headteacher, Alison Duffy said: "This is a huge achievement because the goal posts have been moved by the government and exam boards.
"Students have worked tremendously hard to gain these outstanding results. I am delighted with our students' success.
"They and their teachers are to be commended for all of their efforts.  They have worked hard and deserve these splendid grades. Congratulations to all!"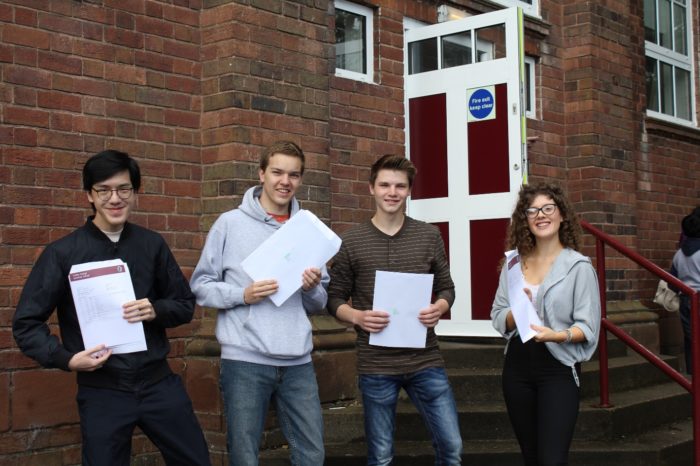 Students at Calday Grange Grammar School had a similarly impressive pass rate of 97.9% at grades A*-E.
These figures continue to build on previous year's results and it is also shown in the average points per entry at 36.1 (average grade B). There was also an impressive number of A*- A grades at 29.2% of the cohort whilst 53% of all students gained A*- B grades this year.
Mark Rodaway, headteacher of Calday Grange Grammar School, said: "The governors would like to congratulate all the students, staff and parents, for their marvellous effort, hard work and achievements particularly in the light of the large scale changes that have taken place this year at Advanced level.
"We wish all our students the very best for the future".
Whilst there are many notable successes from these results, special mention must be made of these students.
West Kirby students, from Birkenhead School, were also celebrating  after the school achieved a 100% pass rate, with almost 20% of students achieving A* or A grades in all their subjects.
Headmaster Paul Vicars said: "I am pleased that this year's students have achieved such strong individual results. As a year group, they have given so much to the School, over so many years, whether it be in the classroom, sports pitches or the arts, some since their time in Nursery.
"They leave with strong academic credentials, great memories and a terrific grounding to achieve in their chosen discipline in the coming years.  It is testament to the opportunities and confidence inspired by all staff at the school, that this year's cohort leave to follow their passions in a wide variety of fields from golf scholarships in the US and pilots training with the RAF, to degree courses as diverse as Architecture to Marine Biology and Dentistry to Film Production.
"As Headmaster, it is a privilege to frequently receive news from alumni of their varied successes and fascinating career paths.  I am delighted that our holistic outlook on education continues to support this and know that this year's leavers will continue to enhance this rich tradition."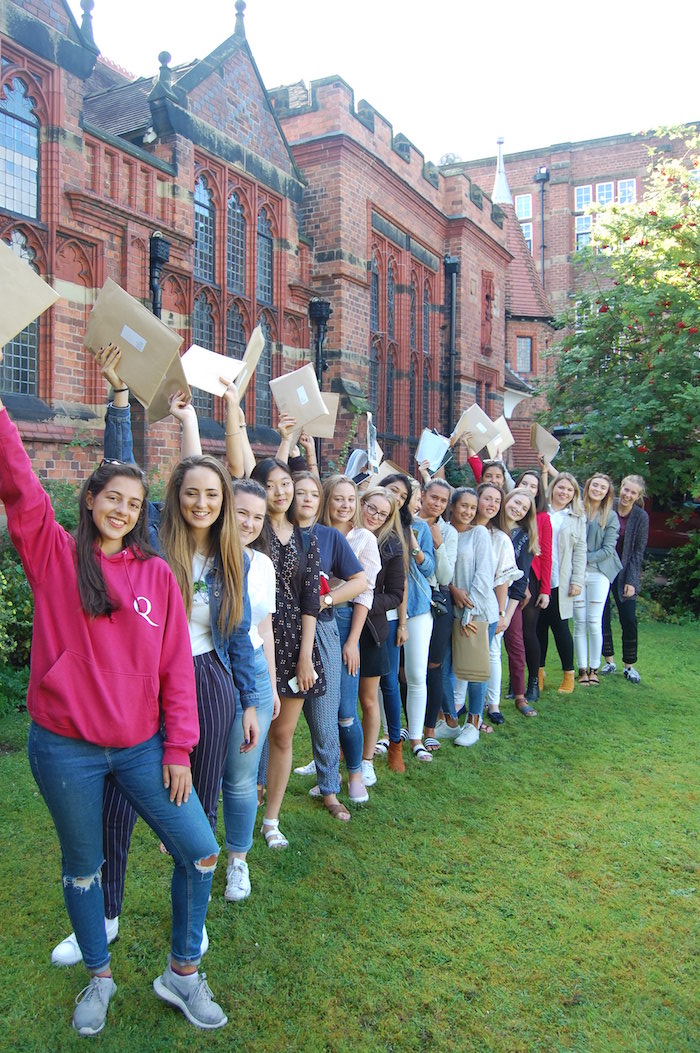 West Kirby pupils at The Queen's School were also celebrating a 100% pass rate.
Headmistress Mrs Sarah Clark said: "These grades are without doubt down to the hard work of the girls over the past two years and the dedication of our teachers.
"Three quarters of this year's cohort outperformed their academic predictions which are set when the girls start Year 12 and based on independent tests. This is hugely positive for our pupils and demonstrates how we as a school add value to the outcomes of even the brightest pupils."
Calday Grange Grammar School
Nitin Rajan who achieved 4A* grades
Lydia Kinnear, Sam Prescott & Milo Noblet who achieved 3A*'s
Alastair Macdonald who achieved 4A* and 1A, his twin brother Duncan also achieving 3A*'s and 1A
Adi Adiga, Adam Harland, Max Prescott who also achieved 3A*'s and 1A.
West Kirby Grammar School
Ryam Al-Rawi, A*, A, A and Dist
Leon Barnard,2A's, C and Merit
Phoebe Cardus, 4A*s
Elspeth Carter, A*, 2A's, C
Lucy Caswell, 2As, B and Dist
Charlotte Dawson,A*, 2A's, C
Isabella Denn-White, 2A's, B and Merit
Hannah Durrant, 3A's and Merit
Lucinda Edwards, 2A's, B, C, and Merit
Matthew Edwards, 2A's, B and Dist
Leah Gregory, 3A's and Merit
Claire Hardy, A*, 2A's and Dist
Sadie Hughes,A*, 2A's and Dist
Isobel Jones, 2A*'s, A and Merit
Annabelle Lee, 3A* and Dist
Maria Majewska, 2A*s, A and D2
Lily McLauchlan, 2A*s, A and Merit
Matthew McClean, 2A's, B and Merit
Sophie Merivale, A*, A, B and Dist
Kate Mimnagh, 3A's and Pass
Saskia Norman, 2A*'s, B and Dist
Billie Pearson, A*, A, C and Merit
Arabella Pickering, 2A*s, A and Dist
Rob Reason, 2A's, B and Merit
Sabine Robinson, 2A*'s, B and Merit
Evie Spurdle, 2A*'s, A, B and Dist
Clara Rigden, 3A*'s and Dist
Rosie Talbot, 2A's, B and Merit
Emily Wallis, A*, 2A's and Merit.
Birkenhead School
James Budworth 4A*s, in Latin, Economics, Maths and Further Maths, alongside a top grade in AS Greek for good measure.
Ahmed Mostafa, who achieved A*s in Chemistry and Religious Studies, with A's in Biology and Maths.
Paul Gogerty, Deputy Head of School, who achieved A*s in Biology and Chemistry, with an A in Maths.
Connie Sturgess, who achieved A*s in Chemistry and Biology and an A in Maths.
Tom Corran will also be celebrating after achieving 4 A grades.
Other noteworthy achievements were gained by Finlay Gordon, Organ Scholar, who will study Music at Durham, Oliver Jones, Benjamin Martin, Bronwen Morris and Ciara O'Sullivan.
Queen's School
Georgina Alexander (A*A*A)
Zara Arshad Roberts (AAA)
Isabel Capewell (A*AB)
Esther Cho (A*AA)
Darcie Cochrane (AAA)
Louise Crook (Pre-U Distinction 2, A, B)
Georgina Elliot (A*AB)
Charlotte Enevoldson (A*A*AA)
Florence Gibbons(AAB),
Emma Hartell (AAB)
Olivia Jones (AAA)
Stella Kiselyova (A*AA)
Lucy Lee (A*AB)
Deeksha Palepu (A*AB)
Georgina Roberts (A*A*A)
Ella Samuel (Pre-U Distinction 1, A*, B)
Amrita Singh (A*AB)
Cat Sutton (AABC)
Danielle Tongue (A*AA)
Natasha Williams (AAB)
NOTE: We have requested results from all local schools, but we'd love to hear your A Level success stories too. Please send details and photos to westkirby@hyperlocaltoday.co.uk