A mindfulness session and picnic on the beach await those who join Bike & Go's free bike ride to mark Mental Health Awareness Week.
The bike hire scheme is hosting its Cycle to the Sands event on Sunday, May 13, to celebrate the mental health benefits that cycling can bring.
Participants will meet at 10am at West Kirby Station where they will be allocated a Bike & Go bike free of charge for the ride, before cycling to Thurstaston for refreshments and then on to West Kirby beach for a mindfulness taster session followed by a picnic – all laid on by Bike & Go.
The event is expected to last approximately three hours, and everyone is welcome, although participants must register in advance by 4pm on Thursday, May 10.
Cycling has long been recognised as a great way of boosting mental health, with a Cycling UK survey published last year revealing that 91% of its 11,482 respondents rating off-road cycling as fairly or very important for their mental health.
Research published in the journal Preventive Medicine also found that people who walked or cycled to work benefited from improved mental well-being compared to those who travelled by car.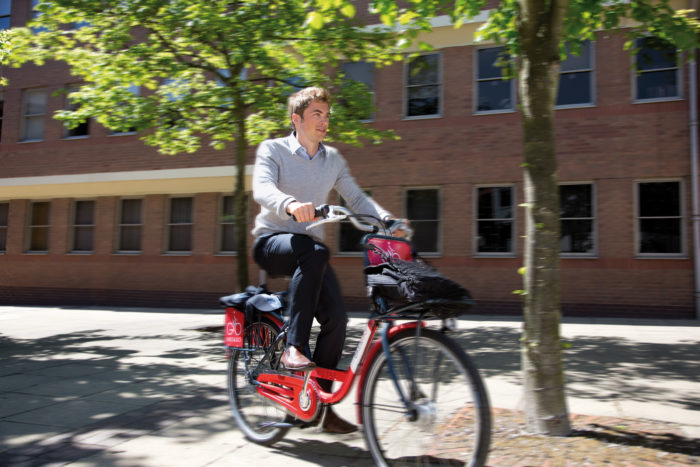 Mental Health Awareness Week takes place between May 14-20, and with this year's focus being on stress and how to cope with it, it's the perfect time to enjoy a bike ride.
David O'Leary, Director of Bike & Go said: "We've long been banging the drum about the direct correlations between cycling and improved mental health, so we're delighted to support Mental Health Awareness Week in such a fun way.
"We're inviting all members of the community to experience the mental health benefits that cycling can bring, while making new friends over coffee, cake and a spot of meditation too."
Bike & Go offers bike hire facilities from 21 participating train stations across the Merseyrail network, including Liverpool Central, Moorfields, Aigburth, Southport, Ormskirk and West Kirby, in addition to a further 49 participating train stations across much of the North West, North East and Yorkshire, East and South East of England, and Scotland.
In 2016 the scheme was praised by a UK division of the travel giant TripAdvisor when it was included in a list of the top seven bicycle hire companies drawn up by its subsidiary rental company Holiday Lettings.
To hire a Bike & Go bike, users simply need to register their card details online, which they can do via smart phones, tablets, or at home, and pay the annual £10 subscription fee. They will then receive a user number via email which will allow immediate bike hire – usually charged at just £3.80 per 24 hours up to a maximum of 72 hours – while they wait for their Bike & Go membership card.
To secure a place, email Lorna Young at lyoung@merseyrail.org