Merseyrail has announced a special 'limited stop' timetable for when the hugely popular Giants visit Wirral and Liverpool in October, which it says will enable it to cope with expected high passenger numbers.
On Friday 5 and Saturday 6 October, there will be three services per hour rather than the usual four on the West Kirby to Liverpool line – but where possible they will be "strengthened", meaning they will be made up of six carriages rather than the usual three.
The following stations will be closed on Friday, Saturday and Sunday:
Manor Road
Meols
Birkenhead Park
Conway Park
James Street
Moorfields
Lime Street
Services will terminate at and depart from Liverpool Central, with Northern line services arriving and leaving from Moorfields.

On Friday and Saturday, services will leave West Kirby for Liverpool every 20 minutes, at 05, 25 and 45 minutes past the hour, while the return journey from Liverpool Central will be at 07, 27 and 47 minutes past the hour.
On Sunday, there will be the usual two services per hour to and from Liverpool, departing at 01 and 31 minutes past the hour from West Kirby, with the return journey from Liverpool Central leaving at 04 and 34 minutes past the hour.
There will be no additional late night services on any day.
Merseyrail says the changes will assist it in coping with the large volume of passengers attending the Giant Spectacular event, and enable it to continue to deliver a reliable service using the trains it has at its disposal.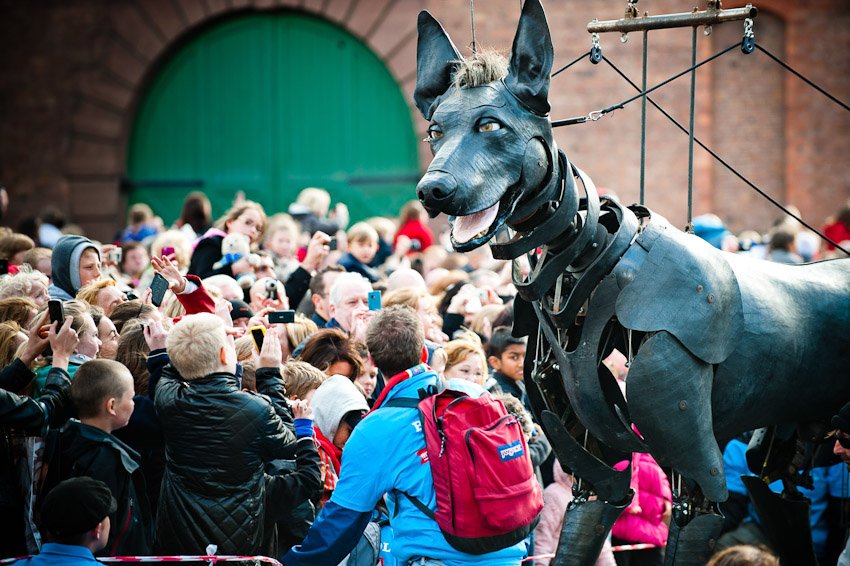 Xolo the dog, one of the Giants
Managing Director at Merseyrail, Andy Heath, said: "We are always pleased to support events in the City Region and to help us deliver a reliable service to both commuters and those travelling to the event, we have made necessary timetable changes.
"Both the timetable change and limited stops mean we can deliver a more frequent and strengthened service as much as possible to support the volume of passengers we are expecting on the network during the Giants event.
"Our stations will be extremely busy, queuing systems will be in place at stations and staff will be available to support passengers. We encourage all passengers to plan ahead and allow extra time for their journeys."
Further information about public transport, and the Giant Spectacular, is available at: