Her day job is teaching adults and children to play the violin, so it came as something of a surprise when Jo Pue Richards got a call inviting her to wake up a sleeping giant on New Brighton beach.
The music teacher, who set up Melody Makers, in Hoylake, was handpicked by Jean-Luc Courcoult – the French artist responsible for bringing the Giant Spectacular to the streets of Wirral and Liverpool earlier this month.
Many of you will have seen Jo sitting  on top of a dumper truck filled with discarded violins as she played beautiful Irish folk tunes to wake up the Giant as he slept on New Brighton beach.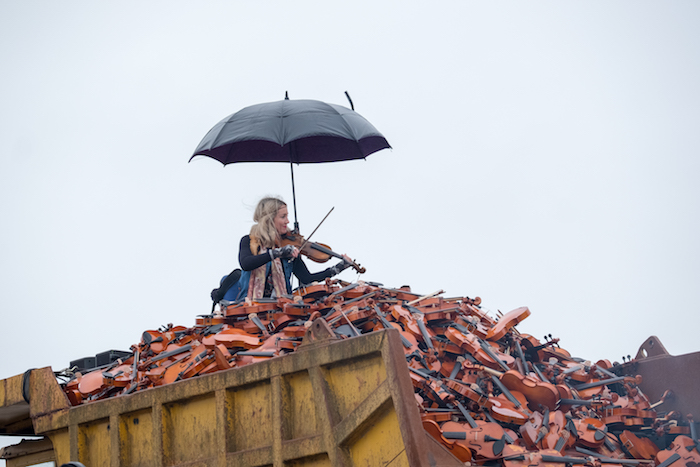 She said: "Jean Luc was looking for someone to play Irish folk tunes and I got a call from the organisers of Liverpool's Irish Festival asking if I would be interested.
"He was very specific about what he wanted. Something very emotional and sad to reflect that this was the last performance of the giants.
"I went along and played for him and he liked what I did. I didn't realise I would be playing in the back of a dumper truck though. I went along to the first rehearsal and, I was like, ok…I'm quite open minded though and it was all part of the show."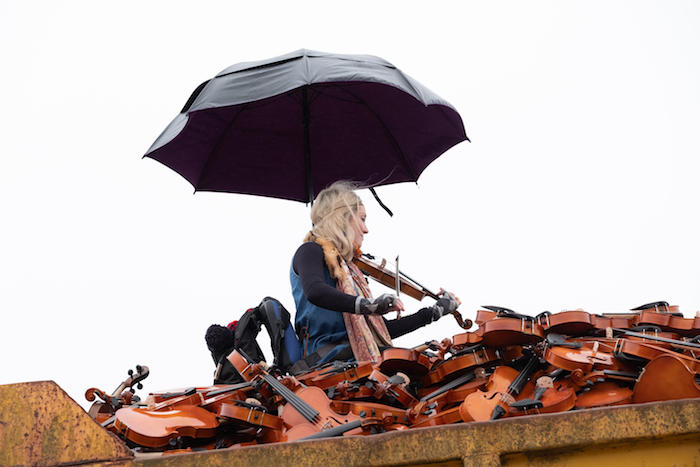 She added: "I teach hundreds of children to play the violin and I saw so many of my pupils watching the show. It was absolutely lovely.
"It meant so much to me to be part of the show, especially as I am from New Brighton. I couldn't believe I had got such a role."
As well as performing the solo violin throughout the weekend's festivities, Jo was also part of the band that follows the Giants through the streets performing to the million plus crowd, who turned out to watch.
Jo got the role through her connection with the upcoming Liverpool's Irish Festival, which she regularly performs at and will be taking place from October 18 – 28.
As well as teaching in schools across Merseyside, Jo also runs a class at Melrose Hall, in Hoylake, every Wednesday, teaching adults and children to play traditional folk tunes, on fiddles, tin whistles, bodhran, mandolin and tenor banjo.
There is more information available here http://www.melody-makers.co.uk/classes-and-workshops