A heavy hailstone shower left some roads around West Kirby like an ice rink, with cars abandoned as motorists were unable to complete their journeys.
Both sides of Grange Hill proved impassable for some drivers, who chose to leave their vehicles and finish their journeys on foot following the downpour, which took place over a half hour period at teatime.
Christine Kershaw posted on our Facebook page: "I left Village Road at 4.30 and it took me 40 minutes to get to Caldy Roundabout. Verrrry scary. I live in Ledsham and it took me over two hours for my commute which usually takes 20 mins. Thanks to my colleague who guided me through by phone. Grit those roads!"
Vicky Wright added: "I just barely got up Black Horse Hill, a few others had abandoned their cars. It was quite scary, they you get to Hoylake and nothing! Absolutely bizarre."
And Mike Toomey wrote: "Cars abandoned on Caldy Hill going up. Heswall is a no go. Took 2.5 hours to get from Deeside to West Kirby."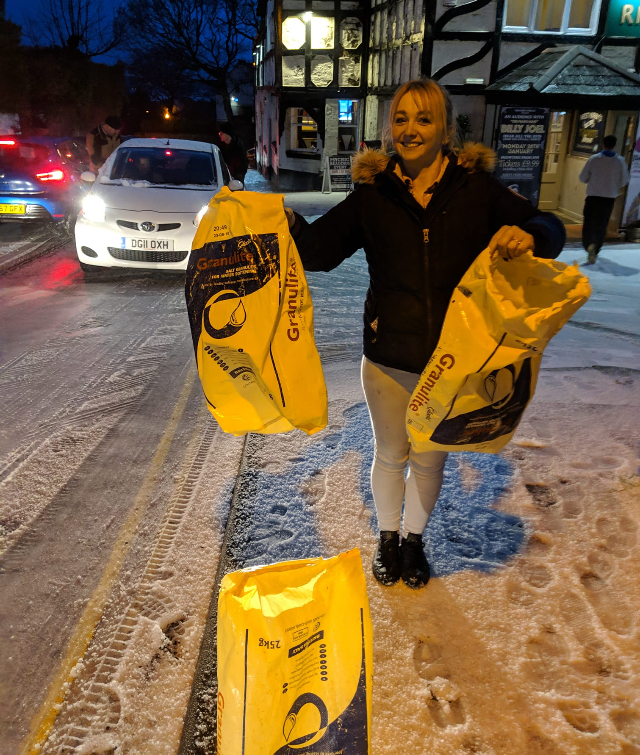 There were reports of people helping drivers and directing traffic, and salt was being spread near the Ring O'Bells on Village Road (pictured above).
Some questioned why roads did not appear to have been treated, but late this evening Wirral Council issued a statement, explaining the downpour was not forecast.
They said: "Roads in west Wirral were affected by a sudden, unexpected snow shower this afternoon which caused some difficult driving conditions for drivers.
"As with other local authorities, we receive regular forecasts in order to make a judgement as to when to effectively deploy our gritting fleet, which cover not just predicted weather conditions, but also likely Road Surface Temperatures over a given time period.
"At no point today did these forecasts predict this sudden snowfall – if they had, we would have gritters out in advance to minimise its impact. The forecast we did have was for possible snowfall around 8pm this evening and for icy conditions on the road from 9pm. Although we can react quickly, we can only make decisions based on the latest information we have at any given time. For this reason, our gritters were lined up to do a full round from 5.30pm, so that all scheduled routes would have been covered by the time the forecast weather arrived. This has now been completed. They will also go out again later tonight and/or tomorrow morning as required."