The long-awaited replacement for West Kirby and Upton fire stations, in Saughall Massie, is now fully operational.
Mersey Fire and Rescue Service say it means response times for West Kirby and Hoylake are now two minutes quicker than from Upton, which had been serving the area since West Kirby fire station closed in 2016 due to government budget cuts.
The new fire station caused huge controversy when it was proposed, as it sits on the edge of green belt land, and there was also anger over Wirral Council's withdrawal of an alternative site in Greasby.
Fire chiefs believe the site provides the fairest degree of emergency cover for the whole area, and argued that Hoylake and West Kirby would be left with some of the worst response times in Merseyside if it was not built, which could mean the difference between life and death.
An analysis of a fatal blaze which killed a couple at a house on Boulton Avenue in March 2016 showed crews would have got there at least 1 minute and 23 seconds quicker from Saughall Massie.
The scheme was initially thrown out by the planning committee in 2016 following vigorous protests from the local community, mainly about the impact on the environment.
Opponents also claimed that Saughall Massie Road would be unable to cope with fire engines responding to emergencies – although the same route was already being used by machines running from Upton to West Kirby.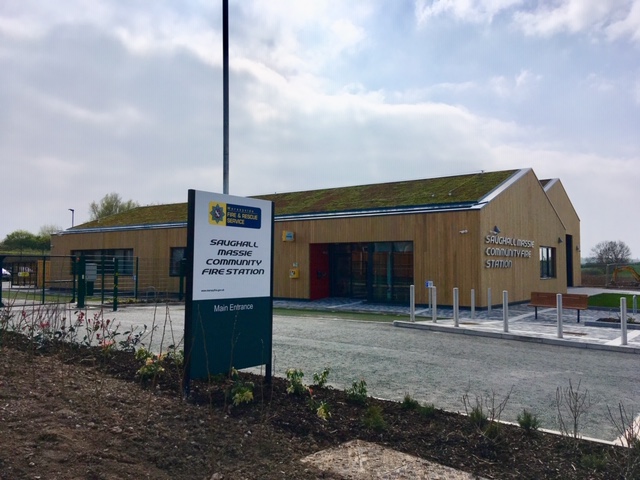 The plan was subsequently resubmitted and approved in 2017 following changes, which included reducing the site by almost a third, cutting the length of the building by 30 feet, removing the access road to the west of the building and moving car parking to nearer the fire station.
A Mersey Fire and Rescue Service spokeswoman told West Kirby Today that the crew moved in at the end of March and an official opening ceremony will take place in the near future.