The global YouTube sensation billed as the world's greatest ukulele player has backed Merseyside's biggest free festival dedicated to the instrument urging music fans to 'support the Summer Strum'!
American artist Jake Shimabukuro known to many as the Jimi Hendrix of the ukulele, sent a video message of support to the annual Summer Strum event which will celebrate its 5th anniversary with performances by more than 50 bands, in Hoylake, this July 6 & 7.
It comes after the Hawaiian-born virtuoso, visited Merseyside to perform at Liverpool's Grand Central Hall, supported by the 8-piece ukulele band The Splintered Ukes from the city, who will be among the headliners at the 2019 Summer Strum festival.
Shimabukuro shot to fame after a YouTube video of him playing an acoustic version of The Beatles' classic While My Guitar Gently Weeps went viral after being posted without his knowledge, gathering more than 16 million views.
He has built a name for soaring, frenetic ukulele re-interpretations of pop and rock classics ranging from Daft Punk's Get Lucky to Bill Withers' Use Me, Leonard Cohen's Hallelujah, Nirvana's Smells Like Teen Spirit, and Queen's Bohemian Rhapsody which got the Liverpool audience singing along.
He posed for selfies with fans after the gig and later recorded the video message, in which he revealed he has signed a ukulele which will be raffled off during the Summer Strum to support the event, and its associated charities.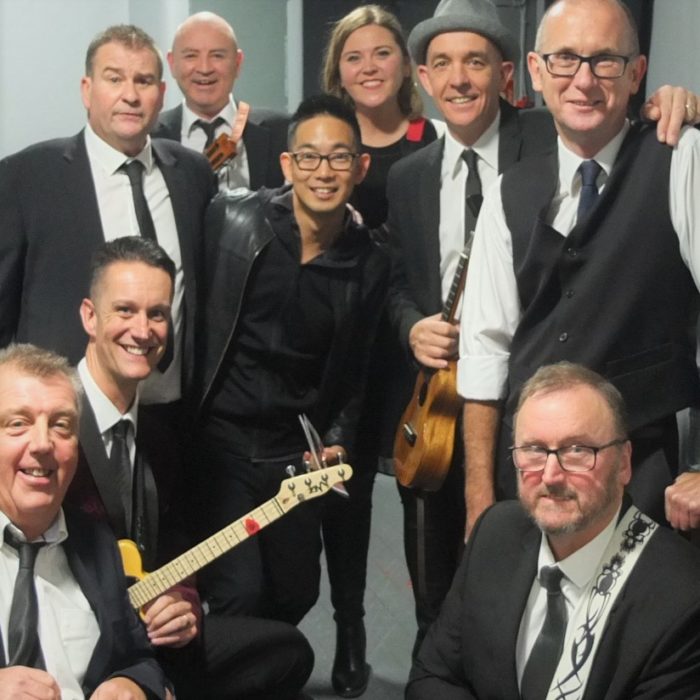 The Summer Strum festival was set up to promote wellbeing by spreading the joy people feel sharing a love of playing ukulele together, and the organisers are  looking for sponsors to help make this year's event even bigger and better than ever.
The not-for-profit, volunteer run festival was set up in 2014 by Pat Ross Davies and Emma Owen of Wirral band the Broken Strings, on a mission to spread the smiles which Beatle George Harrison famously associated with the ukulele.
The festival has so far raised more than more than £10,000 since 2014 for its nominated charities Wirral MIND and Wirral Hospice St John's.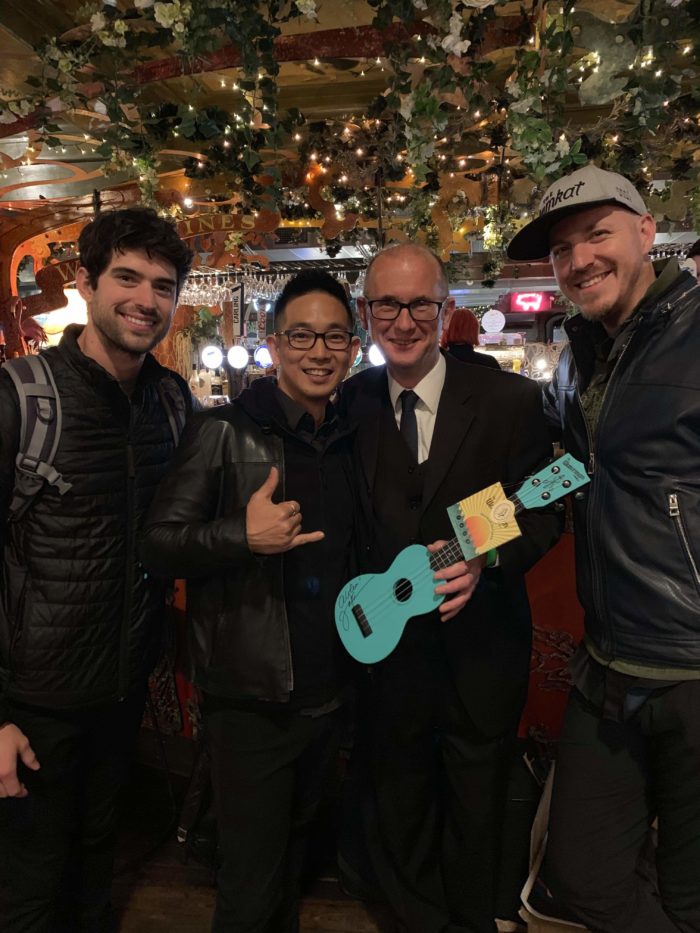 In his video message Shimabukuro says: "Aloha! Jake Shimabukuro here and I just want to say hello and I have this Waterman ukulele that was donated by the Music for Life Foundation.
"I signed it and what we are going to do is we are going to do a raffle, and we are going to give this ukulele away.  So I signed it, I'm just going to strum it a little bit…Thank you so much for your support – this is for Summer Strum festival!
"Keep supporting the Summer Strum festival!"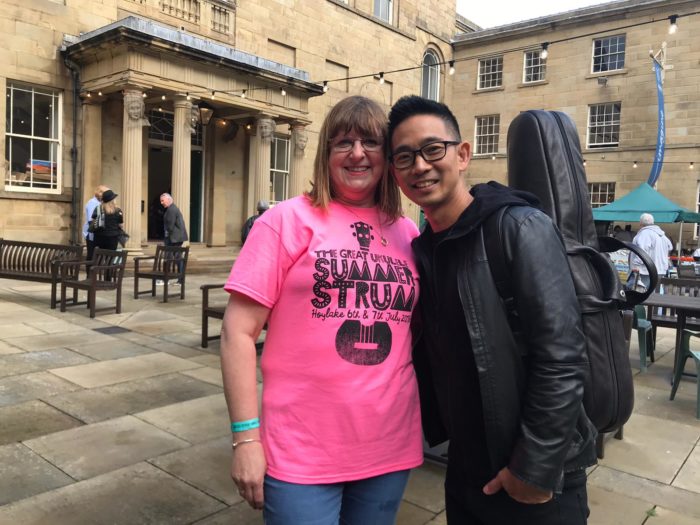 Last year the Summer Strum attracted 2,000 people to a packed weekend of performances, jams and workshops, with food and drink from local artisan stalls, and other wellbeing activities such as yoga and tai chi, at Hoylake Rugby club.
Summer Strum co-founder Pat-Ross Davies from Hoylake met Jake to thank him for his support, as both were also performing at the weekend's Grand Northern Ukulele Festival in Huddersfield.
Pat said: "Jake is an incredible talent and an inspiration, he's also a lovely person. It was fantastic to meet him, and we are blown away by his support for the Summer Strum festival. He even said he hopes to make it to Summer Strum one day!"
"It's an honour to have his backing, it means a lot and the raffle of the ukulele he signed will help raise vital funds to support the event and our charities.
"We still have some opportunities for sponsors to get involved in the 2019 festival so if any Merseyside businesses would like to support us and our mission to spread wellbeing through the joy of ukulele please get in touch."
"It is a wonderful ukulele community that we have across Merseyside and around the world, so if you haven't been before do come along to this year's Summer Strum. Beginners are welcome even if you just want to listen or sing a long, everyone has a good time!"
Headliners at this year's Summer Strum festival include Liverpool band the Splintered Ukes, regulars at the Handyman Pub on Smithdown Road, who supported Shimabukuro at Grand Central Hall.
They got the crowd jumping with a funked up dance set including Jackie Wilson's Your Love Keeps Lifting Me (Higher and Higher), Tina Turner's River Deep Mountain High, and the Stereophonics Dakota.
Drummer with the Splintered Ukes Pete Norman, of Old Roan, said: "We had a fantastic night supporting Jake, he's incredible to watch the crowd loved him. They love Liverpool and always get out and see the sights and meet everyone, they're lovely people"
"We are big supporters of the Summer Strum, it's one of the highlights in our calendar and so we're delighted Jake has given his backing too – there's bound to be some competition to win a uke signed and strummed by the great man himself!"
More than 50 bands will be playing on two stages at the 2019 Summer Strum from 12pm on Saturday and Sunday July 6 and 7.
Among the acts playing are Wirral Ukulele Fanatics, D'ukes of Hazzard, Splintered Ukes, Phil Doleman, Secret Ukulele Band, Ukulele Club Liverpool to name but a few.
An open mic stage will run in the afternoons inside the Clubhouse and people can sign up on the day.
Three workshops will take place in Melrose Hall on Saturday 6th July, just a short walk from the Rugby Club. In the true spirit of inclusion there is plenty for non-ukulele players to get their teeth into including a morning family Pop Song workshop, and Diddley Bow making and Songwriting workshops in the afternoon.
Jam sessions, yoga and tai chi will be on the menu for Sunday morning in the Wellbeing Tent. Open to all on a 'just turn up' basis their aim is to lift vibrations and prepare players and audience for the day ahead.
Spare ukuleles will be available at the Toast & Jam session from 10:30am but all instruments/voices/dancing are encouraged no matter your level of skill.
World renowned ukulele player Phil Doleman will also be running a morning Jug Band Workshop in the Clubhouse.
Co-organiser of the Summer Strum festival Emma Owen from Hoylake said: "The main aim of the Summer Strum is to promote wellbeing and inclusion in the community.
"We would like to thank everyone who gives their time all year round to help make the festival the great success it is.
"We are grateful to all the local businesses who support us especially Hoylake Rugby Club, Melrose Hall and Handy Scaff, who offer discounted services, provide raffle prizes, sponsorship and support Summer Strum throughout the year and over the weekend itself."
To find out more visit the festival website: www.summerstrum.com and keep up to date with all our activities throughout the year on Facebook: Summer Strum Hoylake.