Two police officers who responded to reports of a man brandishing a firearm in West Kirby are up for a top award.
PCs Mark Patterson and Stuart Bratherton were on uniform patrol when they responded to reports of a man threatening a member of the public on Victoria Road in September 2017.
They saw the man's car leaving the scene and pursued the vehicle, whilst providing a running commentary to the control room so firearms officers could also attend.
The vehicle came to an abrupt stop in a residential street, so the officers were left with the split-second decision: either wait for armed response or confront the suspect and protect the public from a potential gunman on the street.
The officers approached the suspect's car, not knowing if he was going to point the gun at them, as he had done to the original victim. Due to their fast thinking and quick reactions they were able to detain him.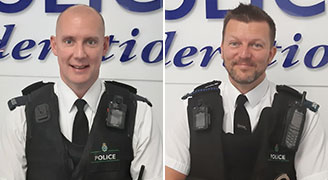 The officers searched his vehicle and found a handgun and an improvised explosive device, and the suspect was arrested. Because of the severity of the risk to the public an evacuation was called, and a safety cordon was put in place with the Explosive Ordnance Disposal Team requested to attend.
They confirmed that the suspect bomb inside the vehicle was a "viable explosive device" and needed a robot to carry out a controlled explosion on the site.
A further search of the suspect's home found another firearm and several other homemade explosive devices, and he was later jailed at Liverpool Crown Court.
John Apter, National Chair of the Police Federation of England and Wales said: "These awards highlight the incredible bravery that officers protecting our country show every single day.
"They are a credit to the service and I am proud to call them colleagues."
The award ceremony is being held tonight, Thursday 18 July.