The world's best cyclists will be pedalling through Caldy,  West Kirby and Hoylake on Wednesday 11 September, as the OVO Energy Tour of Britain comes to Wirral.
A highlight of the peninsula's year as Borough of Culture, it will give residents and visitors the chance to watch world-class cycling along the gruelling 174.1km route – including along Banks Road, Meols Drive and North Parade.
Organisers are encouraging local businesses to put out bunting, flags and banners to welcome the riders, and some schools are allowing pupils out of lessons to watch the race passing through, expected to be between 2pm and 2:30pm. West Kirby Library is giving away flags for people to wave.
The race itself will feature 20 teams, including 11 fresh from the Tour de France, a Great Britain team, and five UCI ProContinental squads, led by Corendon – Circus Cycling Team, who are already confirmed as bringing rising star Mathieu van der Poel to the race.
The route 
The OVO Energy Tour of Britain passes through Port Sunlight on its way towards Chester, returning to Wirral via Heswall, Caldy, West Kirby and Hoylake, before passing through the Birkenhead Park finish line. It will then take in a loop through Seacombe, Wallasey and New Brighton.
High levels of traffic expected, and road closures and parking restrictions along the route, residents and visitors are encouraged to use public transport.
Live coverage and highlights of each stage of the OVO Tour of Britain will be broadcast on ITV4 in the UK.
Road closures
A number of rolling road closures will be in place on 11 September, to ensure the safe passage of the race. Signs say roads could be closed from 11am – 4pm, but most will be shut for a period of about an hour,  before and after the race passes through.
Caldy Road, Caldy – between Column Road/Telegraph Road to Sandy Lane
Village Road, West Kirby – between Kirby Park and Sandy Lane
Sandy Lane, West Kirby – between Village Road and Banks Road
Banks Road, West Kirby – between Sandy Lane and Dee Lane
Dee Lane, West Kirby – between Banks Road and Grange Road
Grange Road, West Kirby – between Dee Lane and Riversdale Road
Meols Drive, West Kirby – between Grange Road and Market Street
The King's Gap, Hoylake – between Market Street and North Parade.
North Parade, Hoylake – between The King's Gap and Meols Parade
Meols Parade, Hoylake – between North Parade and Dovepoint Road
Dovepoint Road, Hoylake – between Meols Parade and Birkenhead Road
Birkenhead Road, Meols  – between Dovepoint Road and Heron Road
Heron Road, Meols – between Birkenhead Road and Saughall Massie Road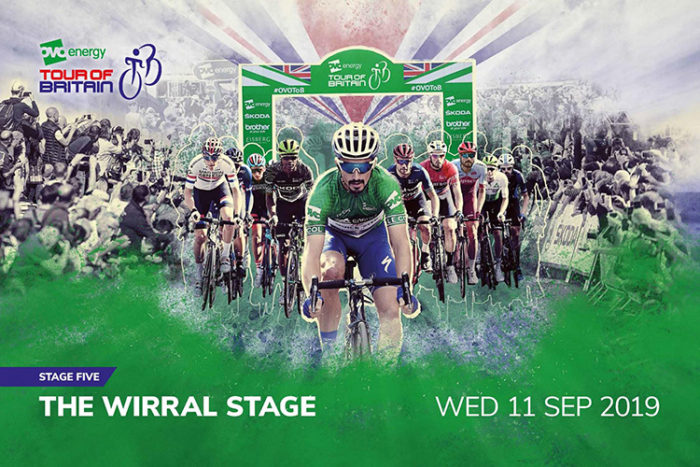 Parking suspensions
No waiting, loading or unloading in these locations:
Caldy Road, Caldy – between Melloncroft Drive and Sandy Lane (both sides)
Sandy Lane,West Kirby – between Banks Road and Macdona Drive (both sides)
Banks Road, West Kirby –  between Sandy Lane and Dee Lane (both sides)
Meols Drive, West Kirby – between Dee Lane and Bramerton Court (both sides)
Meols Drive, Hoylake – from a point 100m south of its junction with Airlie Road to its junction with The
Kings Gap (both sides)
North Parade, Hoylake – between The King's Gap and Meols Parade (both sides)
Meols Parade, Hoylake – between North Parade and Dovepoint Road (both sides)
Dovepoint Road, Hoylake – between North Parade and Birkenhead Road (both sides)
More information can be found at https://www.tourofbritain.co.uk/stages/stage-five/