So, I did not have high hopes on the night I went to review the new menu at Karma Indian Food.
Not because I didn't expect the food to be delicious. I've long heard friends rave about it being the best Indian restaurant in Wirral and I've always enjoyed the food on previous visits.
No, I'd been struck down by what I've christened 'Bongo's Flu'. A few days before, I'd been to the infamous Bongo's Bingo, in Liverpool, and now I was officially broken.
But I'm so glad I dragged my sorry ass out of my sick bed because the feast they had prepared for us was just what the doctor ordered.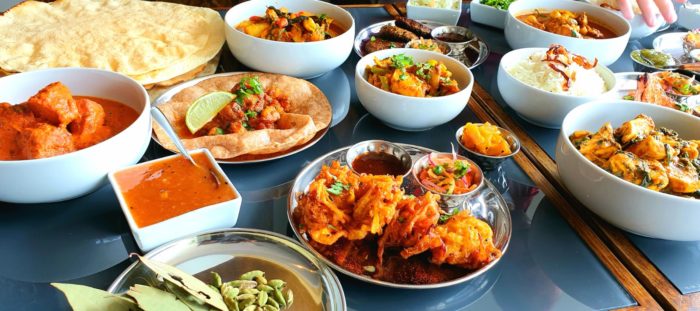 Karma has been a mainstay on the West Kirby high street for the past 17 years but it's recently undergone a refurbishment and has a new menu, created by the talented chef Hussain Miah.
I visited on a busy Thursday evening with my husband, 5-year-old son and my West Kirby Today colleague, Paul and his wife.
The team at Karma had put together a tasting menu for us, which was perfect because I, like most people I suspect, tend to stick to my usual favourites when I go for an Indian. It was time to widen my horizons.
The selection of starters set the tone for the rest of the meal. Modern indian food, which bore little resemblance to any food I'd ever tasted in a traditional Indian restaurant.
I'd recommend you order the chutney tray with your papadoms for the pineapple chutney alone. I could have happily eaten a bowl full.
For starters, we had a sharing feast of Salmon Tikka, Cauliflower Pakora, Prawn Chaat and Onion Pakora. I can't fault any of it but if you forced me to choose, I'd happily eat the Salmon Tikka, a baked Scottish salmon marinated with yoghurt and spices, every day of the year.
Alongside the starters, one of our waiters, Juli, brought out a special meal for our 5-year-old. I was particularly impressed when he delivered our plates and announced they were hot. As I was about to pull the plate away from my little boy, he told us he'd brought a cold plate for him. It's always the little things which take restaurants from good to great.
Our son had Chicken Tikka with fried potatoes. When I asked what he thought, he said: "they are really yummy fish fingers, Mummy." High praise indeed.
Next came our mains. Babul Miah, who is Hussain's brother and one of the management team at the family-run restaurant, told us you can judge any Indian restaurant on the quality of its Butter Chicken. My husband, who considers himself something of a Butter Chicken connoisseur, declared it great and quite unlike any Butter Chicken he'd eaten before.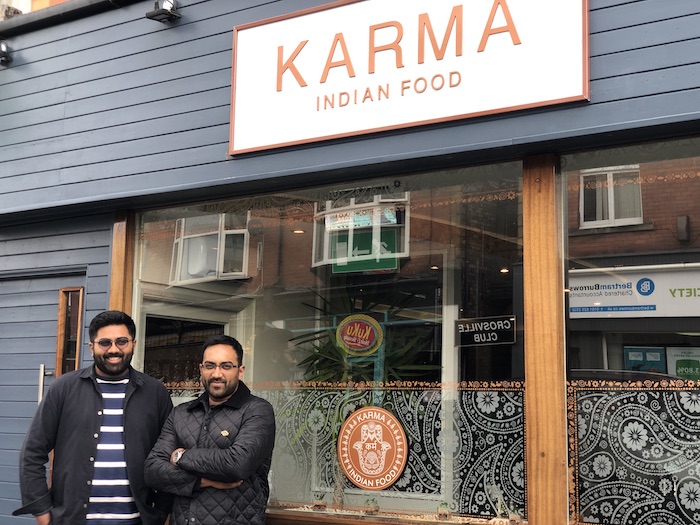 Babul explained to us that the philosophy at Karma is to deconstruct (even he rolled his eyes when he said this) traditional Indian dishes and then put them back together using only a few ingredients. By keeping the ingredients simple, they can then focus on perfecting the ideal combination of flavours and cooking technique. It works.
I don't eat meat so the rest of the menu was very fish and veg orientated. There was a delicately spiced hake curry, a homestyle Vegetable Biryani, a Vegetable Jalmeeta alongside my personal favourite Tarka Dhal. Spell check keeps changing this to Parka Dhal for some reason. So if it does appear as that in this article please be assured it is not a homage to Liam Gallagher. Although the younger Gallagher brother would no doubt be honoured to have something so moreish named after him.
After this gargantuan feast, there was definitely no room for any dessert.
Karma's menu boasts that they have had over 60 years of family recipes passed down to them via their Grandma Miah, who holds the honour of being Wirral's first-ever, female Bengali chef.
Grandma Miah certainly knew a thing or two about curry and she's clearly passed that down to her children and grandchildren.
Karma Indian Food, 9 Grange Road, West Kirby, Wirral, CH48 4DY | 0151 625 5999 | www.karmaindianfood.com