It is human nature to focus on the negatives during these strange times.
Stories of people breaking into cars to steal hand sanitiser (sadly, we are not joking about this) and clearing the shelves of Morrisons and Aldi so there is nothing left for the elderly and vulnerable.
However, for every depressing tale, there are ten times as many positive stories of kindness and community spirit.
Here are just a few we have heard about so far.
HOYLAKE FLOORING
Staff at Hoylake Flooring are offering their van and delivery driver for free to help and local, elderly people who needed shopping or prescriptions dropping off.
If you need help, you can call them on 0151 632 6219.

Nine Leaves
The staff at the Hoylake cafe were quick off the mark to set up a collection point for food to deliver to those in need. You can drop off donations at the cafe, in Albert Road, which they will be using to create care packages for local people in need.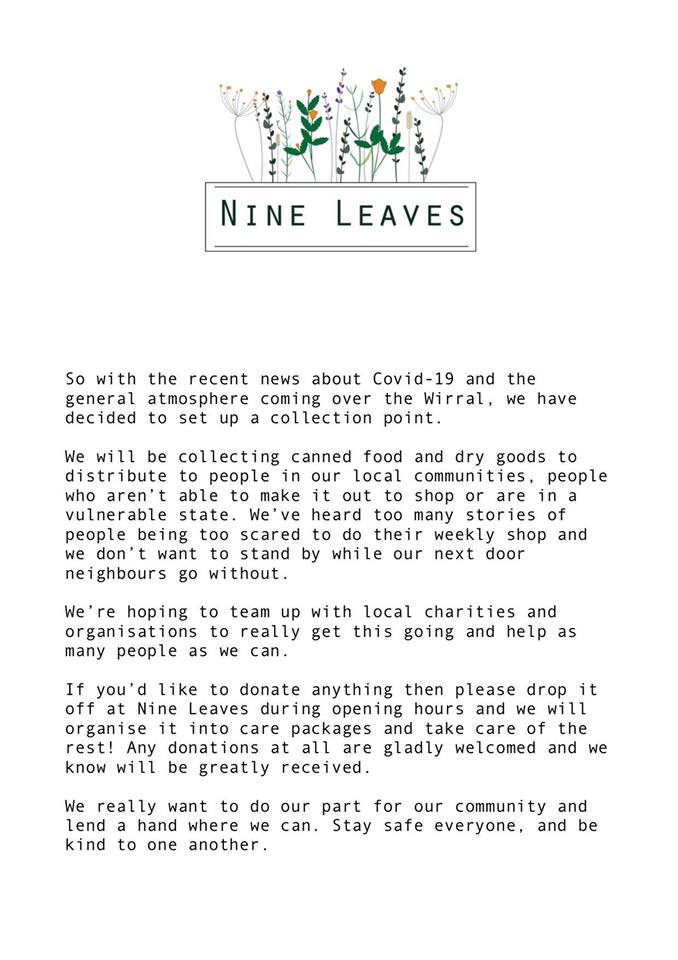 Wirral Support During Coronavirus
This Facebook group is pulling together local people offering help and support during the crisis. Everything from people offering to walk dogs to sharing nappies.
You can join the group here: https://www.facebook.com/groups/wirral2020/
Street WhatsApp groups
We're hearing of numerous people setting up WhatsApp groups for their roads so they can help their neighbours as and when needed.
Leave a leaflet offering help with your neighbours
You can right click on the leaflet below to download and print.