The RNLI Hoylake hovercraft rescued a man stuck waist deep in mud near Meols, in an incident the coastguard said could have had a tragic ending.
The male, who was bait digging in Leasowe Bay, was struggling to reach the shore and, despite eventually freeing himself, ended up in the water as the gullies across the beach rapidly filled with water.
The alarm was raised at around 11:30am, and a Coastguard Rescue Officer entered the water and kept him safe until the arrival of the hovercraft.
The man was treated for the effects of cold and transported to Meols steps, from where he was taken to hospital.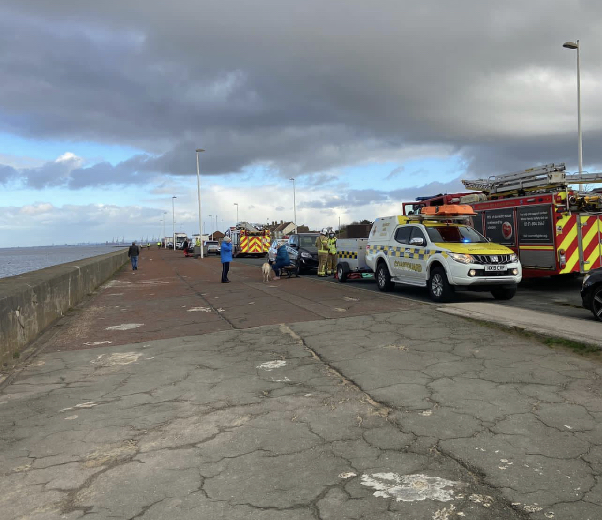 Michael Buratti, Station Officer for Wirral Coastguard Rescue Team said: "The tide can very easily catch people out and today this gentleman had a very lucky escape after struggling through mud and then ending up in the water.
"Without the interventions of Coastguard Rescue Officers and Hoylake Hovercraft, the ending could have been tragic and I would like to praise the efforts of Coastguard Rescue Officers and the RNLI Crew from Hoylake Hovercraft for how effectively they worked together.
"This incident is a reminder of how important it is for people to check tide times and be aware of their surroundings when on the beach."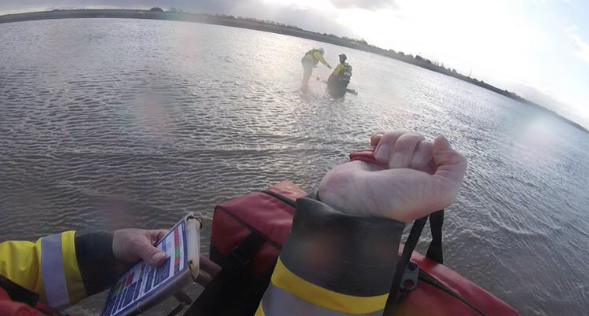 Hoylake RNLI hovercraft crew member Colin Gordon said: 'The casualty had a very lucky escape. He was cold, exhausted and his condition was deteriorating quickly.
"As the flooding tide had cut him off completely from the shore, without assistance from the emergency services the outcome could have been very different.
"If you're heading out across the beach, we urge everyone to check tide times and heights, to stay aware of your surroundings, and to make sure you have a safe route to return to shore. It's a good idea to tell someone where you're going and when you'll be back and to always carry a means of calling for help. In an emergency, dial 999 and ask for the Coastguard."
PHOTO CREDITS: RNLI (top and bottom) and Wirral Coastguard (middle)