It is arguably one of the most contentious local issues in recent years: should Hoylake beach be raked, or left to nature?
Ever since Wirral Council stopped digging up grass in 2020, citing advice from Natural England (the government's advisor on environmental matters), there has been a noisy debate.
The local authority's decision means the beach will not be raked until 2023 at the earliest. Crucially, it will only restart then if the new management plan allows for it.
Ahead of an initial public consultation on the beach getting under way in January 2022, we asked a number of different groups and organisations with an interest in the beach to outline their views.
Hoylake Beach – The Evidence
Who are they? A Facebook group with around 690 members. They want to "collate and display evidence from both sides of the debate around the future of Hoylake Beach, from Red Rocks to the Hoyle Road slipway, and allow interested people to form an evidence-based as opposed to an emotional-based decision on the best solution for the future".
What they say: Jane Turner from the group told West Kirby Today: "We think the most important thing to say is that this isn't and shouldn't be about "sides". The whole debate of the future of Hoylake beach is mired in political dogma, misinformation, and divisive rhetoric. There should be no sides when everyone should want Hoylake to not just survive but thrive. The pitching of amenity v nature is a dangerous distraction. What is needed is clear information about what is happening and a clear and mutually owned plan about what needs to be done.
"It is currently illegal to rake the beach. It is a site of special scientific interest (SSSI) and an internationally recognised Ramsar site. A special license is required for the council to do anything at all that affects the vegetation, or the tidal wrack on the beach. There is currently no licence in place and Natural England (NE) have stated that they will prosecute anyone who damages the SSSI. NE have said that they may consider defining an amenity area, but not before detailed botanical and geomorphology studies are complete. No amount of petitions or repeated public questions to council will change the legal position.
"Anyone who has known Hoylake for any length of time, can't help but notice how much higher and flatter the beach is. Not just up against the wall, but over the entire beach. In fact, since the promenade was built, 200m offshore is now several metres higher. That is a phenomenal amount of sand, 1.5 millions tonnes have been added to the beach since measurements started in 1981. The mean spring high tide mark is retreating at about 7m a year and the upper beach is so high, the sea needs the help of well-timed strong winds to ever come fully in again. The upper beach at Hoylake is reverting to the dunes which once stretched all the way from West Kirby to New Brighton. Raking will not prevent this, the vegetation is the result of the changes in beach height, not vice versa.
"Again anyone who lives in Hoylake, will have noticed how sand blows inland and causes problems with increasing regularity. Over history, nearby coastal towns have been lost or damaged by moving sandbanks. Meols was buried like Pompeii and abandoned in medieval times, Formby was buried so badly, the church needed relocating half a mile further inland and more recently, St Annes found its roads blocked by sand. This is now starting to happen to Hoylake – the East Hoyle Bank is inexorably coming ashore. Storm Arwen showed just how vulnerable we are. Happily the green beach absorbed 1000s of tons of sand prevented a much greater problem and the King's Gap to just west of Alderley Rd section escaped entirely because the green beach was wider there.
"Though the beach is rising much faster than even the most pessimistic predictions for sea levels, we do still face a tangible risk of flooding due to storm surges. Everyone will remember what happened in Dec 2013, when a relatively modest storm surge put the sea completely over the promenade and into people's gardens. The record storm surge is more than ten times higher and would be capable of flooding a long way inland at low tide. We should plan for moderate storm surges as climate instability increases.
"This debate should not be about "sides". It should be about making decisions, based on tangible evidence, that protect Hoylake from the real threats it faces. There are a number of possible solutions, a natural sea defence of dunes being one of the obvious possibilities, but the path chosen to deal with the future we face should be one that we can all agree on. One thing is clear, removing the retaining green cap from a huge pile of loose sand right next to the promenade, without a carefully costed mitigation plan i.e. a wall or a massive excavation of the immense volume of added sand, is reckless, has the potential to be insanely expensive and currently illegal."
Find out more: https://www.facebook.com/groups/353912892854904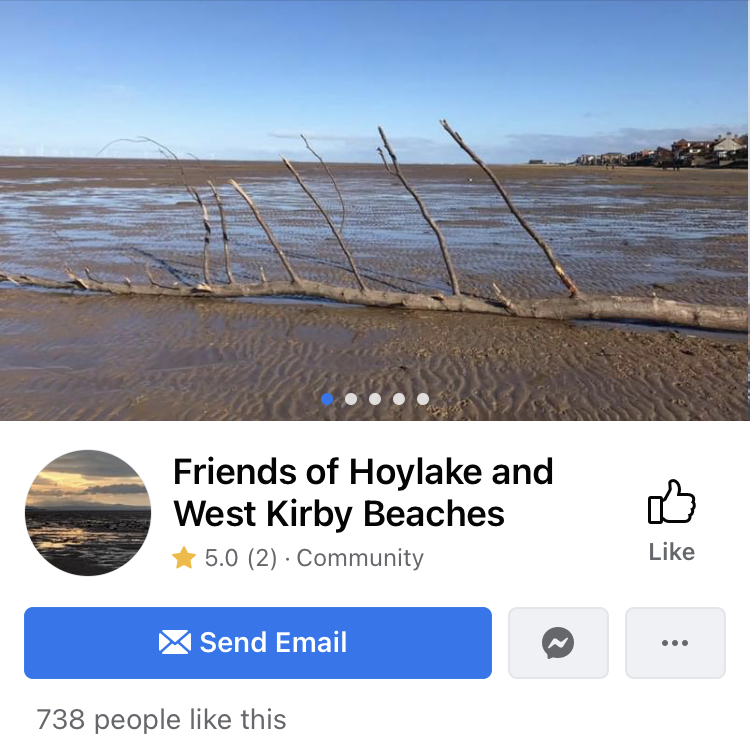 Friends of Hoylake and West Kirby beaches
Who are they? The Friends are a constituted organisation founded by a group of residents, and want raking of the beach reinstated.
What they say: Co-founder, Wendy Bennett, said: "The majority of residents of Hoylake and Meols are outraged that our amenity beach has been taken away in order to 're-wild' it. We were never consulted about this and our protests have been completely ignored. We are disgusted by the way the Council has handled the issue and view it as a failure of democracy. The common-sense approach would have been to consult before deciding to stop raking in 2019 and to investigate potential 'unintended consequences' of raking at that time before the damage was done.
"We do not understand how anyone can possibly find the grassy mess pleasant to either look at or walk on and have serious concerns, validated by expert advice, about the adverse public health aspects of what has been allowed to happen.
"There is plenty of evidence, despite what the Council says, that Spartina grass in particular has a negative affect on the birds at Hoylake Beach which are meant to be protected and as the grass grows and the tide further recedes from the promenade wall, the conditions will be perfect for breeding of the saltmarsh mosquito which currently infests Parkgate.
"As a group, we wish to see the grass removed and a plan implemented to keep further growth under control, both on the amenity part of the beach and on the wider shore. We would also wish the Council to consult formally with us to find consensus. We have tried to do this but have been rebuffed."
Find out more: https://www.facebook.com/HAWKbeachfriends/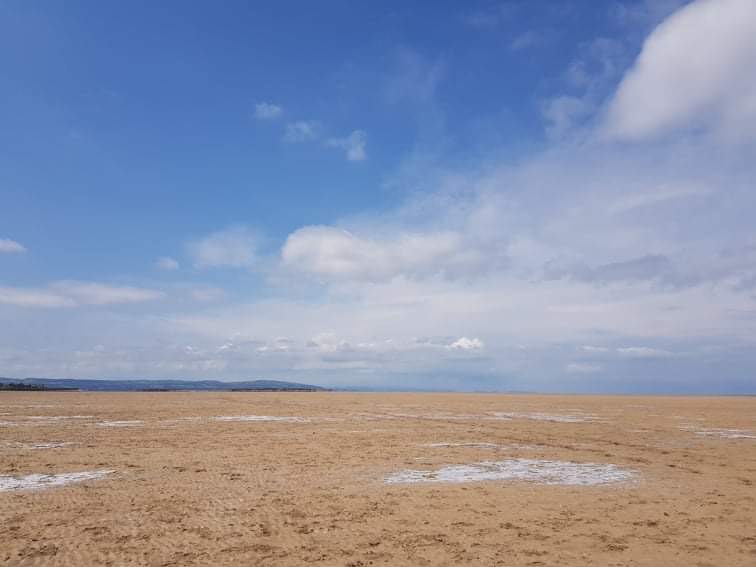 We Love Hoylake
Who are they? A Facebook group with 1,900 members. They say they "celebrate all the amazing things about Hoylake". Members post regular pictures of flora and fauna on the beach. 
What they say: Site admin, Helen Shaw, told us: "While we are not a group that's about just the beach, many of our members really enjoy it and spend a lot of time walking on it, playing with their children there, taking photos, walking their dogs and watching the many rare birds and other species we are so lucky to share it with. It's a brilliant community resource and we are delighted to see that recently it is busier than it has been for many years.
"Many members have said that the changes in conditions have meant it is much easier now to walk out to the sea at low tide than it was a decade ago. There are also reports of more types of birds, which bring in visitors from all around. It can be quite a walk out to the sea, with up to a mile of sand, depending on the tides, but the photos and videos members post from the water's edge are spectacular and it's well worth the trip (always being careful to check tide times).
"Our main focus is about positivity, and celebrating our brilliant local community, with its many independent shops, friendly pubs, cafes and restaurants and beautiful SSSI beach. There are differing views about the plantlife growing across a very small strip close to the wall, but we are awaiting the scientific survey to find out more about the best options going forward.
"In the meantime, there is so much more to the beach (including miles and miles of sand to enjoy) and to the village that we all want to celebrate.
"So we ask that everyone in the group is kind and respectful to each other, steers clear of negativity, and we work together to share what we love about where we live."
Find out more: https://www.facebook.com/groups/2388665601437298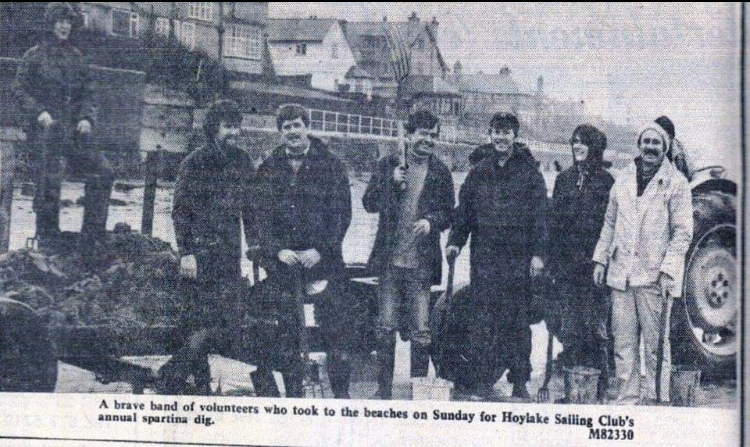 Hoylake Beach Community
Who are they? A group which wants an area of the beach set aside for recreation. They describe themselves as "supporters of a beach for wildlife, nature, & people to enjoy & thrive".
What they say: Caroline Wright, spokesperson, told us: "Hoylake Beach Community formed five months ago and are a friendly group of unpaid volunteer residents who are passionate about Hoylake beach and the community. Our volunteers have a longstanding history and vast experience of Hoylake beach and birdlife.
"Our key priority is the mental health and well-being of our community combined with finding a compromise for both people and wildlife. We are requesting a stretch of sandy beach to be restored and maintained from the RNLI station to Kings Gap, allowing conservation green beach areas either side.
"We feel that the unilateral decision taken by the council to cease maintaining Hoylake beach has raised anxieties and emotions thus creating an increasing divide amongst the community. We are trying to find harmony and common ground, however it is proving very difficult due to inaccuracies cited by various social media forums, both past and present. Many people do not understand what has happened to the beach and why the council are not engaging and listening to the public.
"Not many people are aware of the fact that Hoylake has no designated amenity green space other than a very small area in Grove Park.
"Birkenhead Park serves that purpose for Birkenhead, and the small sandy amenity stretch of Hoylake beach serves the purpose for our community and also for Wirral residents and tourists. The Victorians understood the importance of mental health and well-being and cognitive benefits of living and exercising by the sea. Imagine the outcry if Birkenhead Park was allowed to 'rewild' and maintenance was withdrawn? 
"Hoylake Beach Community have been portrayed by various groups both in the council and on various social media platforms as being 'privileged' 'sore losers' 'rakers' and 'nature haters' when this could not be further from the truth! 
"It is important for us to state that this campaign is about maintaining balance for both nature and human beings. It is not a game of 'sides', and there should be no winners or losers! In a reasonable world, how can it be deemed as 'unreasonable' to request compromise by asking for less than 1% of the Wirral conservation coastline to be kept as an amenity sandy beach, and maintained like it used to be, combined with green conservation beach areas either side? Councillor Grey has previously indicated in the media and also to local residents by email, that a compromise could be negotiated, yet there has been no engagement or willingness to discuss this option further.
"That is all we request, compromise for the people of Wirral, not just Hoylake! Similar circumstances arose in Cleethorpes, and NE Lincs Council have negotiated with Natural England for the hand removal of marsh grasses from a section of their beach which is also under SSSI protection. So we know that negotiation is possible, and harmony can be achieved!
"As a group, we are trying to inform people via our website and newsletters, and have questioned the various 'reasons' provided by the council as to why they stopped the original Beach Management Plan back in December 2019, when it was only due to expire in March 2021. There were no formal risk or public health assessments undertaken, no test site area designation, nor public consultation made at the time. A risk assessment is a very important requirement and should have been completed particularly because of the poor drainage system run off on Hoylake beach.
In fact Hoylake Vision published on the website that Natural England had advised in March 2020:
"it would be better for the local environment for land drainage / runoff to be collected treated and then discharged via a regulated discharge point. There may be opportunities for wetland creation landward of Hoylake or further along the coast and these areas could receive this treated water."
"There are also many misconceptions around the invasive non-native Spartina Anglica (which is a pioneer marsh cordgrass), and it's natural and rapid progression from Hoylake towards both West Kirby and Meols. There are many independent published reports showing that this species affects birdlife, yet the guidance is contrary and confusing, when both RSPB England and NatureScot have differing viewpoints.
"Climate change and flood risks have also been cited by the council because marsh land can provide natural coastal and flood protection. However, this reasoning does not hold the same validity for the North Parade stretch of beach which is known to be a 'very low flood risk' zone as defined on the GOV.UK flood mapping tool.
"The drainage issue is not disputed, any options reviewed by the council and Hoylake Vision under their NDP remit and recent Masterplan proposal to solve the drainage system, should not result in the loss of our sandy amenity beach."
Find out more: https://www.hoylakebeachcommunity.co.uk/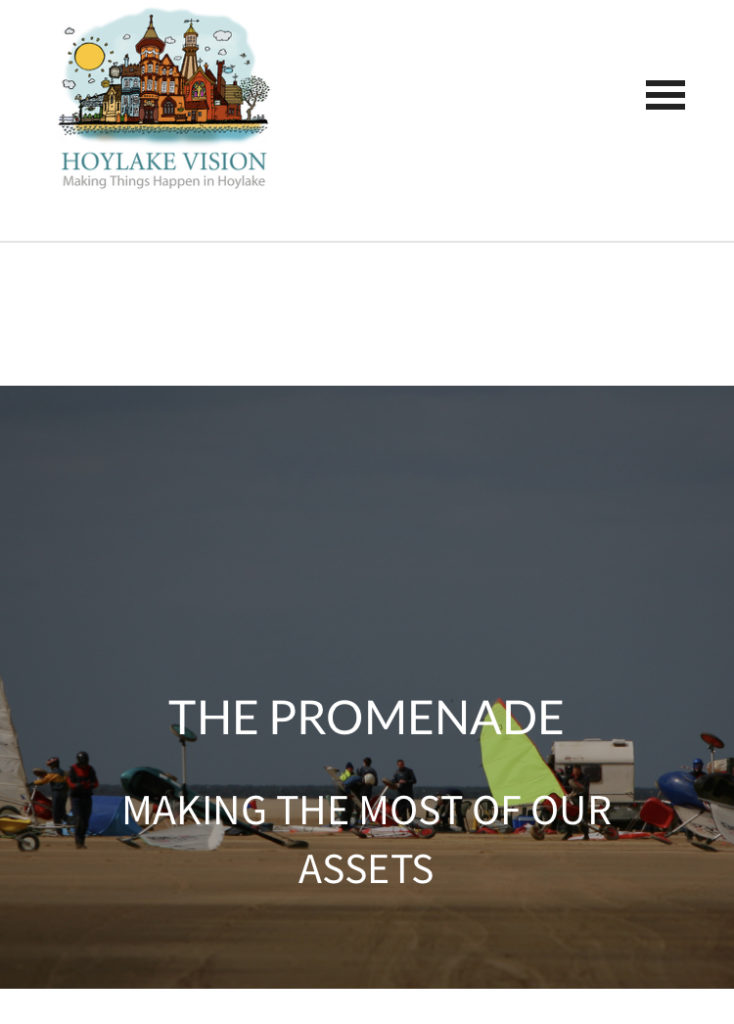 Hoylake Vision
Who are they? A group of local volunteer residents and businesses, who produced and manage the Hoylake Neighbourhood Development Plan (NDP) in consultation with local residents and businesses. They are currently consulting on a new plan and have put forward proposals for a remodelling of the promenade.
What they say: Mark Howard, Chair of Hoylake Vision's Management Group, told us: "The beach is not within the Hoylake Neighbourhood Development Plan (NDP) boundary, which stops at the promenade wall.
"The only reference in the NDP to beach management states: "The Council's Beach Management Plan should be supported and followed, with a regular review of practices for monitoring Development." The current review of practices therefore aligns with the NDP.
"We do, however, have powers to consult over issues that affect the beach from within the NDP boundary, for example drainage and development on the promenade or landscape viewing points.
"Consultation undertaken so far shows many people feel that the promenade is a missed opportunity; it could be much more attractive and with better facilities. Porous surfacing, cycle lanes, accessibility, EV charging points, small café and artisan huts have been mentioned.
"Drainage issues were highlighted by many with the impact on the beach being of particular concern.
"The emerging Hoylake Masterplan therefore includes proposals for this. If the community support these proposals then we can include objectives, priorities and policies in the next NDP that the council will need to take into account when making future planning decisions.
"Since significant government funding is available to Local Authorities for Coastal Resilience projects such as this, it could be of great value to any future application that the Local Authority might put forward if the NDP has relevant objectives, priorities and policies included.
"Hoylake Vision would not be involved in any way in the funding of any future promenade development; that would be entirely a matter for the Local Authority and the government.
"Incidentally, the Masterplan states (page 48) "With Natural England assent, potential to retain an 'amenity beach' area while allowing natural succession along the rest of the foreshore", since this was referred to by a number of consultation respondents.
"I strongly urge people to email us at info@hoylakevision.org.uk with any thoughts, questions or concerns as consultation is ongoing and will continue."
Find out more: https://hoylakevision.org.uk/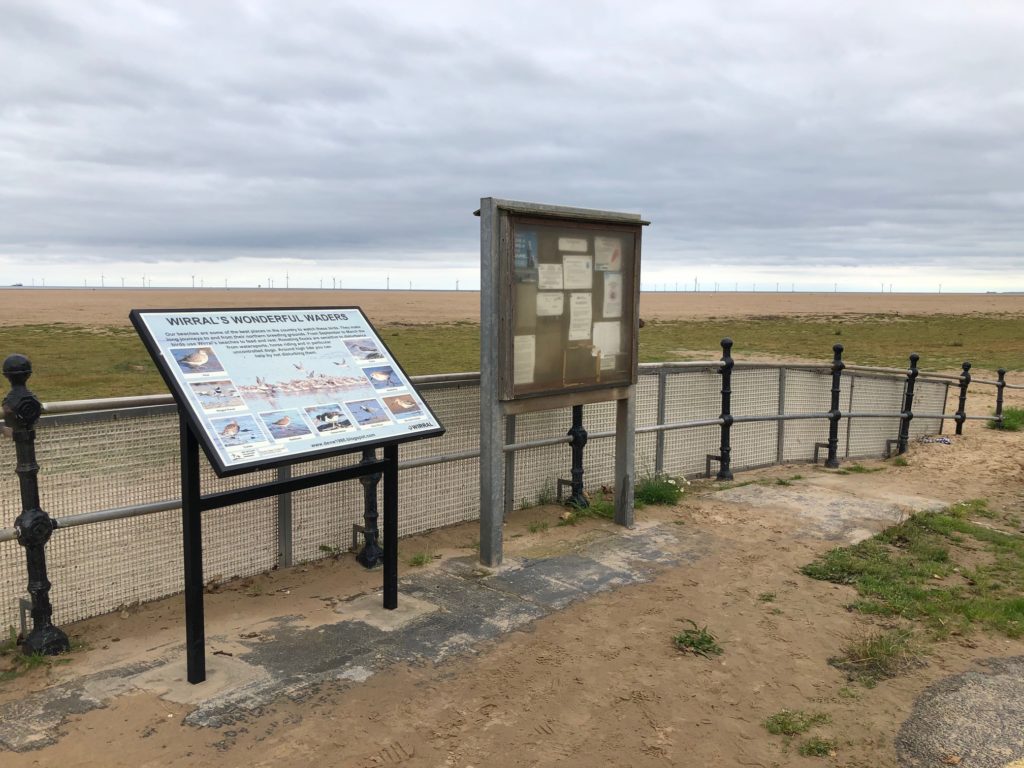 Wirral Council
Who are they? Responsible for developing the new beach management plan.
What they say: "Hoylake Beach is home to a range of rare or nationally important species and habitats and is a designated Site of Special Scientific Interest (SSSI). Because Hoylake Beach is legally protected through several statutory designations this means it is protected under law from anything that puts those elements at risk. We know that the beach is changing naturally, and it is becoming increasingly difficult for it to be effectively managed in a way that would gain assent from Natural England. Additionally, the Council, as landowner, has a statutory duty to further the conservation and enhancement of the SSSI. Through the work we are doing and with the findings of the independent Ecology and Geomorphology study later in the year – combined with public consultation – we will find the most effective solution for managing Hoylake beach in the long-term.
"It is not true to say we have stopped managing the beach altogether, as we are still carrying out a range of maintenance tasks. The Council can only manage the beach in a way that is approved by Natural England. The previous Beach Management Plan, which was approved by Natural England in 2016 expired this year and we are working with partners, residents and other stakeholders to agree a new strategy, taking into account Hoylake's status as a Site of Special Scientific Interest and an area of international importance for wildlife and foreshore habitats.
"However, before we can formally consult on this plan, we are commissioning an independent Ecology and Geomorphology study so everyone can get a clear understanding of the evolution of Hoylake beach; how it has changed in the past and also how it is likely to change in future with rising sea levels as a result of climate and other natural changes. The Council took a decision to stop using glyphosate on Hoylake beach approximately two years ago and also decided to stop raking the beach [from 2020].
"Whilst the future management plans for Hoylake beach are being developed the Council will continue to move sand from the sea wall to allow highway drains to work properly and remove litter by hand from the beach.
"This is not a money saving exercise – indeed, the Council is making a significant investment in the work being done to help inform future beach management. In developing a longer-term plan for the management of Hoylake Beach, our primary consideration is that it is the most appropriate way to protect and conserve the natural environment in this special location."
Find out more: https://haveyoursay.wirral.gov.uk/hoylake-beach-information
What happens next?
Scientific survey work carried out on behalf of Wirral Council took place in August, with the report now expected to be published early in January 2022.
This will be followed, from mid-January to March 2022, by what the council describes as "an initial consultation and engagement exercise seeking out views on future Hoylake beach management".
It says feedback will be used to develop draft objectives for Hoylake beach and future management options.
At this point there will be a second public consultation, from July to September 2022, to allow review of the objectives and options.
The preferred options from that consultation will be reported to Environment, Climate Emergency and Transport Committee where councillors will make the decision on future beach management, which is due to be implemented from April 2023.
Editor's Note: We asked Save Hoylake Beach/Love Hoylake if they wanted to contribute. They declined and told us Hoylake Beach Community had taken over their campaign.