Volunteers from Hoylake RNLI lifeboat crew will take on a team from Hoylake Sailing Club this Boxing Day in the annual Slater Trophy Tug O'War.
Covid-19 restrictions permitting, the competition will return at midday on Sunday 26 December after Wirral Council gave approval for the local festive tradition to take place.
This year the Tug o'War will be held on the grassed area next to Hoylake RNLI lifeboat station on North Parade, due to a scientific study taking place on the beach.
There will also be new measures in place to keep participants and spectators safe at the outdoor event.
People attending will be asked to avoid crowding together where possible and not to attend if they are displaying symptoms of COVID-19 or have had a recent positive test.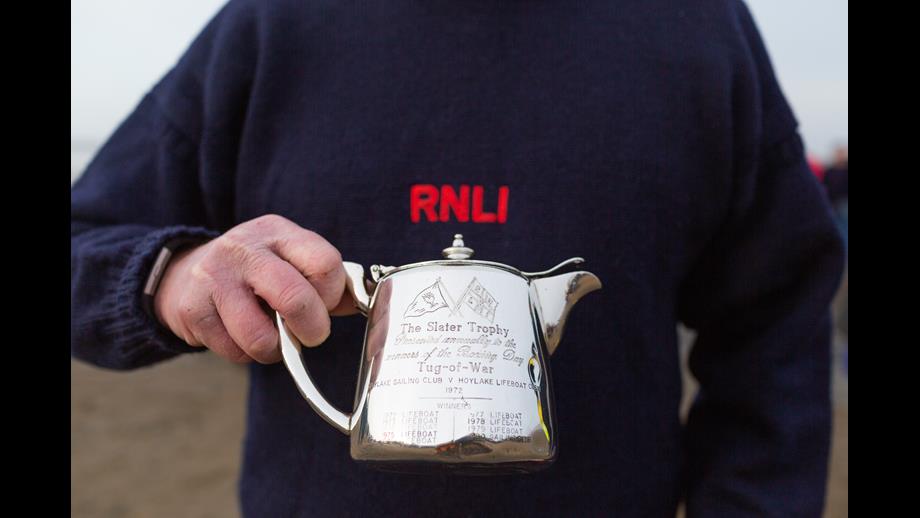 Hoylake RNLI Coxswain Howie Owen said: "After another busy and challenging year for our volunteer crew, we're excited to be pulling on our boots again and taking on the Sailing Club in friendly competition for the Slater Trophy.
"Last year's Tug o'War was sadly cancelled due to the pandemic, so we know how much our community will be looking forward to seeing it take place.
"The event is free to watch and a great way to walk off Christmas lunch. We hope that our community will show their usual fantastic support by cheering on the teams. But until then, stay safe and have a very happy Christmas."
About the Boxing Day Tug o'War
The Boxing Day Tug o'War was established in 1972 by Arthur Slater of Hoylake Sailing Club and Hoylake RNLI Coxswain Danny Triggs. It has become a firm fixture in the local community calendar.
Since the tradition began, hundreds of spectators have normally gathered to watch the two teams battle it out for the coveted Slater Trophy – a small teapot that bears the name of the winning side stretching back for nearly 50 years.
The humble trophy started life in the boardroom of Cammell Laird shipbuilders in the 1960s when the Polaris programme's Resolution-class submarines were under construction in Birkenhead. The teapot was later thrown out, dented and dull, into a McDermott's sprout box before finding its way to Hoylake.
After the inaugural Tug O'War took place, the teapot was discovered, polished and engraved with the name of the first winning team – the 'Lifeboat'. So began nearly five decades of local competition. The trophy will see its 50th anniversary marked in 2022.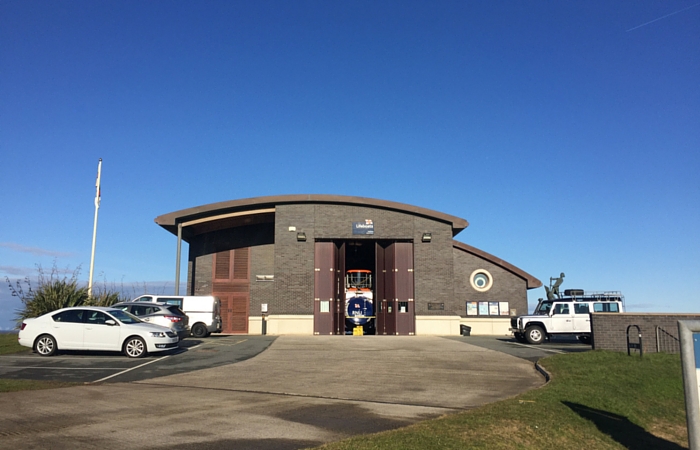 Help the RNLI
This winter the RNLI is asking for support from the public to help its crews in their mission to save every one.
If anyone attending the event would like to help fund Hoylake RNLI's lifesaving work then donations would be welcomed at any donation point on the day.
Supporters can also donate to the Hoylake and West Kirby RNLI Fundraising JustGiving page.
More information about the RNLI's Christmas appeal can be found at RNLI.org/Christmas.
Photo credits (top 3 images): RNLI/ Victoria Phipps