"Go and vent your spleen about the wall!" shouted a woman to someone she knew, as she strode away from West Kirby promenade.
She had just been to look at a wooden mock up of a section of the town's new sea defence, put together by local residents opposing the £10 million scheme.
The design of the wall has been controversial, with a 1,000 name petition and almost 200 comments submitted to the planning committee when the scheme was approved last November.
Those against the plan are now mounting a last ditch bid to highlight their concerns.
Organiser Judith Carter spoke to West Kirby Today in between handing out surveys to interested passersby.
"We're asking people's opinion of the wall, the width of the pavement and the cost benefit and we're taking peoples postcodes, so we know whether they live on the front or not", she said.
"We're going to send that information to the council, because we do think things could be done better or differently.
"Our big concerns are the disabled access is very poor, and it's below the minimum recommended unless the highways authority signs it off, and we're not sure whether they've done that properly.
"The prom will be very much narrower, and you can see today that it is packed and we would lose that amenity. And the cost of it is disproportionate compared to a much simpler system of helping local people protect their own properties."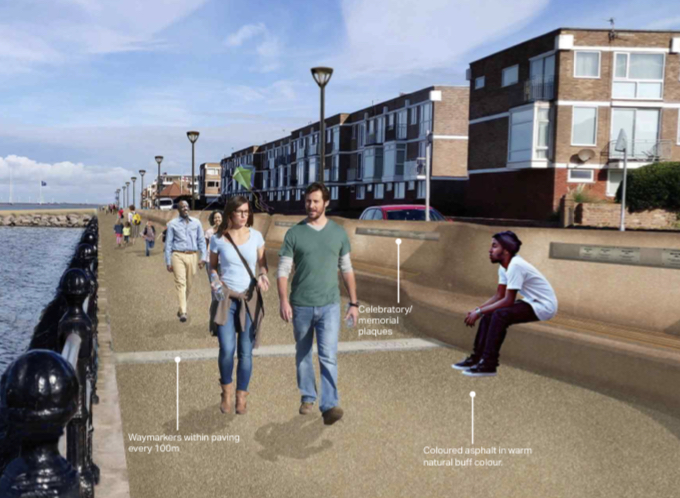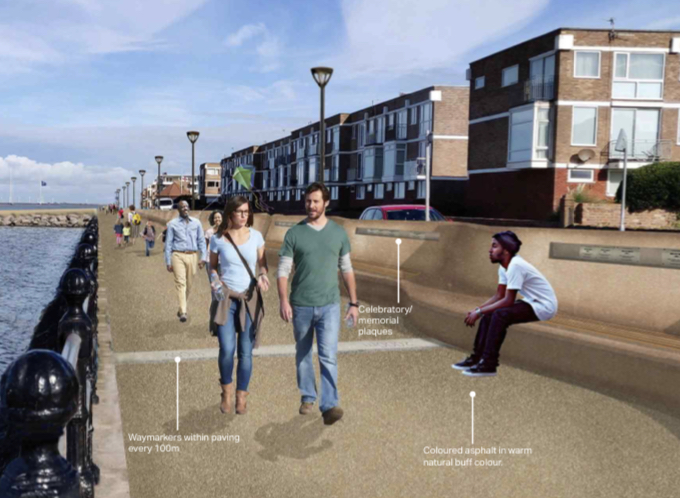 The council says that since December 2014 there have been more than 20 flood events, with four considered significant. With sea levels rising, they argue the issue is only going to get worse.
It says the scheme 'will protect 70 properties at risk of flooding now from extreme tidal events' and give over 500 properties improved protection over the next century as sea levels rise.
In response to criticism over the design, officials previously said it reflects feedback during a public consultation in March 2019, including that it should have more interesting features, incorporate public realm, retain Victorian features and make space for cyclists.
They argue there will be sufficient space for pedestrians, wheelchair users and car users to get on to the prom because the 'wave' nature of the design means the space on both sides varies and there are 15 access points along the route.
Judith told us their issue is not the principle of a flood defence, but the way in which the local community were consulted: "They [the properties on the front] probably do need protecting and it's quite likely there will be more water coming up, but there are much cheaper ways of doing it and they were not put in the consultation.
"We were told the council had already decided that they needed to build a wall and [the only choice was] what colour would we like it."

Not everyone is against it. One woman, who didn't want to be named, said: "I just think it is absolutely essential when you see what happens when the high tide comes in around here".
Others were resolute in their opposition. A lady, who also wanted to remain anonymous, told us: "There is no need for it. The council would be better spending their money on other things like the things they want to close down."
The council is contributing £2.8 million to the overall cost from its 'capital' programme. This fund can only be used for building or infrastructure projects and is separate to the money used to pay for day-to-day services such as the libraries which are set to close unless community groups can be found to take them over.
Despite the ongoing strength of feeling, it appears highly unlikely that the council will amend or reverse its plans now – preparatory work is due to get under way in the next few weeks, with the scheme set to be completed by the winter.