Hoylake Library could be saved after a local community interest company announced plans to bid to take over the site.
The Market Street branch is one of 11 across the borough earmarked for closure as part of £27 million of council budget cuts.
The Life Tree, based at Quirky Cafe where it runs a number of services supporting people who are struggling, has announced it is putting together a proposal.
Their ideas include using it to host book clubs and story time sessions, as well as it being a base for community groups and events. A cafe is also proposed.
They are holding a series of focus group workshops next week for local people to give their input.
In a Facebook post, they said: "We are so excited to announce that we are looking to put together a bid to take over the Hoylake Library!
"The community's options and views matter to us and we would love to hear from you!
"We are holding some focus groups for you to come and meet us, ask questions and give us your feedback and maybe look at how you can get involved."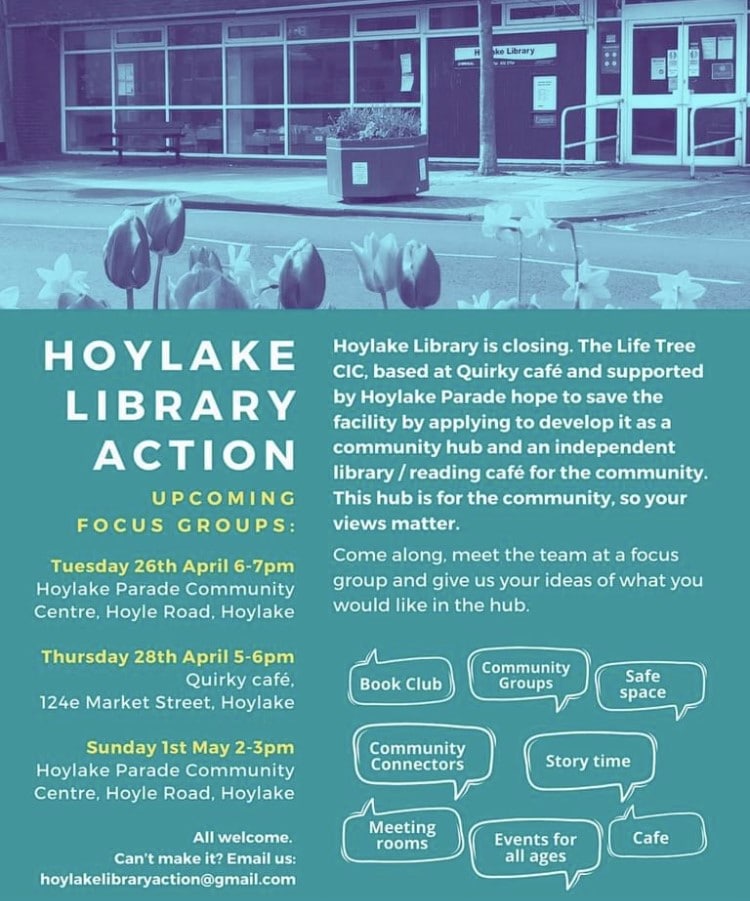 The time and locations of the focus groups are:
Tuesday 26 April: From 6-7pm at Hoylake Parade Community Centre
Thursday 28 April: From 5-6pm at the Quirky Cafe on Market Street
Sunday 1 May: From 2-3pm at Hoylake Parade Community Centre
People can also email their views to hoylakelibraryaction@gmail.com.
If successful, the building would be handed over under what is known as a Community Asset Transfer.
Wirral Council has previously said: "The arrangement for a community owned/managed library must be robust and assessment of viability will need to be defined with support from legal and asset services.
"It is important that any residual demand on council resources under any arrangement must be proportionate and should not adversely impact on the financial or operational sustainability of the service. This will be a key success factor in the assessment of any proposal."