Piling works on the first phase of the construction of the new £10 million flood defence wall along South Parade in West Kirby are to begin.
The first road closure will be in place from Monday 20th June to allow works to take place on the section of the waterfront between Riversdale Road and Dee Lane.
Wirral Council's construction and engineering partner on the project, VolkerStevin, have written to residents who live in the area affected to give them prior notification of the closure and how it will impact on their access.
In a statement, Wirral Council said: "The closure will be managed by having staffed vehicle and pedestrian gates at both ends of this section.
"It will only be in place during working hours – 8am to 6pm, Monday to Friday. The gates will be removed each evening and at the weekend.
"Residents who live between Riversdale Road and Dee Lane – plus any visitors or deliveries they might be expecting – will be allowed access throughout due to the closures being managed by a member of staff. They will also be on hand to provide any other assistance to residents directly affected by the road closure."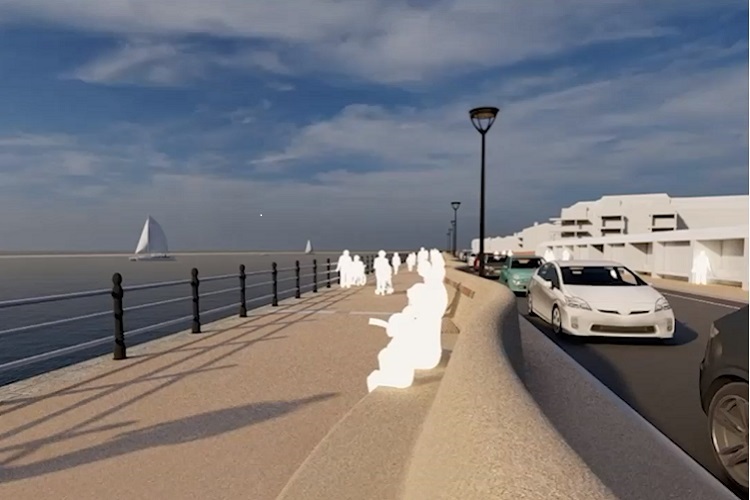 The piling will see hollow steel circular tubes pushed through the weak ground underneath the promenade until they reach firmer, supporting ground.
The top of the tube at ground level will then be capped off with concrete, which provides a suitable foundation for the new promenade and wave wall, capable of withstanding wave forces that will act upon it.
The design has caused controversy, with 198 of the 221 comments submitted to the planning consultation against it and an online petition amassing a large number of signatures.
Objectors raised concerns that the wall will narrow the promenade and create access problems.
Residents living at The Sail have described it as 'an outrage' and the Wirral Society also objected. 
The council says that since December 2014 there have been more than 20 flood events, with four considered significant. With sea levels rising, they argue the issue is only going to get worse.
It says the scheme 'will protect 70 properties at risk of flooding now from extreme tidal events' and give over 500 properties improved protection over the next century as sea levels rise.
The work is supposed to be finished by the winter.