Public health officials in Wirral have issued guidance to local residents ahead of a forecast heatwave at the start of next week.
Temperatures are expected to reach 40 celcius in some parts of the country, prompting the Met Office to issue an extreme heat warning, although Wirral is currently subject to an amber rather than a red warning.
The mercury is expected to hit 33 celcius in West Kirby and Hoylake on Monday and only drop to 22 celcius overnight, meaning hot and sticky sleeping conditions. Tuesday's forecast high is 31 celcius.
Wirral's Director of Public Health, Julie Webster, said: "Please stay weather aware and take care of yourself and others – in particular look out for older people who may find it more difficult to stay cool and hydrated in hot weather.
"Try to avoid going out during the hottest part of the day if you can and always remember to wear sun protection and stay hydrated.
"Babies' skin is much more sensitive than adult skin, and it's recommended that you keep your baby out of direct sunlight particularly during the hours between 11am and 3pm, when the sun is at its strongest."
The signs of heat illnesses include:
Tiny red blisters on the skin that have a prickling sensation (heat rash)
Headache, nausea, vomiting
Excessive sweating
Dizziness or feeling like you might "pass out"
Cool/clammy skin
Rapid breath or pulse
Muscle cramps in the arms, legs, or abdomen
She added: "If you, or anyone around you, experience any of these symptoms, get to a cool, shaded place and slowly drink water. For more serious symptoms like seizures and lack of consciousness, call 999 immediately."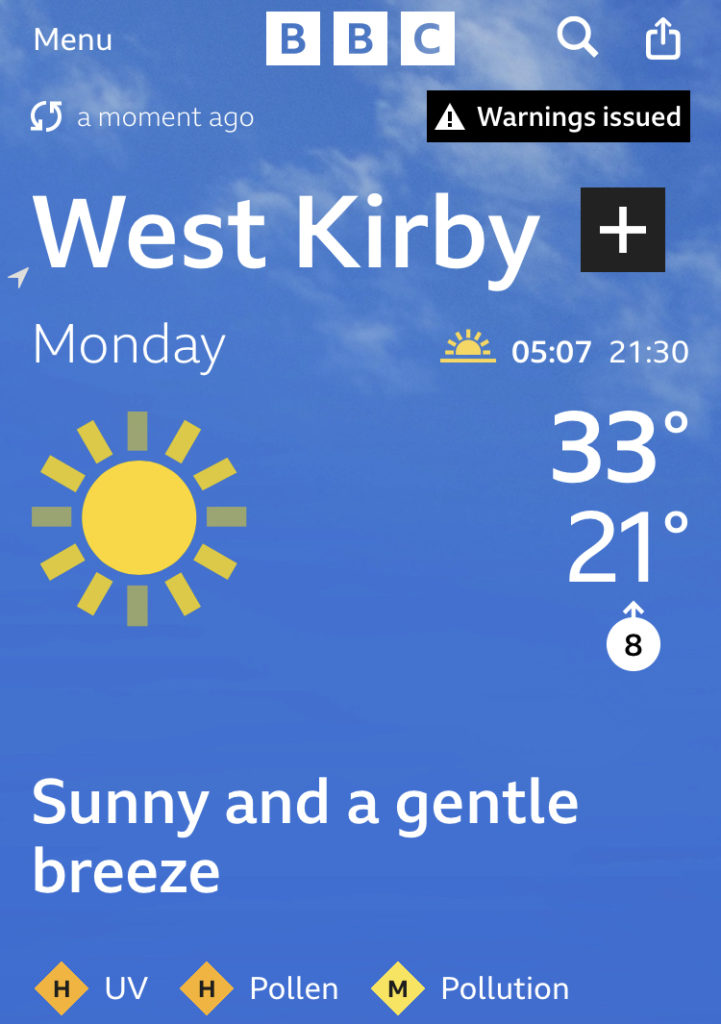 Met Office Chief Meteorologist Paul Gundersen, said: "Exceptional, perhaps record-breaking temperatures are likely early next week, quite widely across the red warning area on Monday, and focussed a little more east and north on Tuesday. Currently there is a 50% chance we could see temperatures top 40°C and 80% we will see a new maximum temperature reached.
"Nights are also likely to be exceptionally warm, especially in urban areas. This is likely to lead to widespread impacts on people and infrastructure. Therefore, it is important people plan for the heat and consider changing their routines. This level of heat can have adverse health effects."
The weather is expected to break on Wednesday, with a return to average temperatures for the time of year.