Caldy Rugby Club's remarkable season, which saw them promoted to the Rugby Union Championship, has been recognised at a Civic reception.
Players and support staff were invited to Wallasey Town Hall after an incredible run of form swept the team to their highest placing in their 98-year history.
The Mayor of Wirral, Councillor Jeff Green, said: Every now and then sport throws-up some unexpected and extraordinary results, and Caldy's magnificent season is a great example of that.
"A remarkable run of 17 straight wins took Caldy into the Championship, starting with a win at Bishops Stortford in December last year and ending with the title-clincher against second-place Sale at the end of April. That incredible run speaks volumes about the skill, determination and undoubted quality of the team, its coaching staff, and all those supporting them off the field."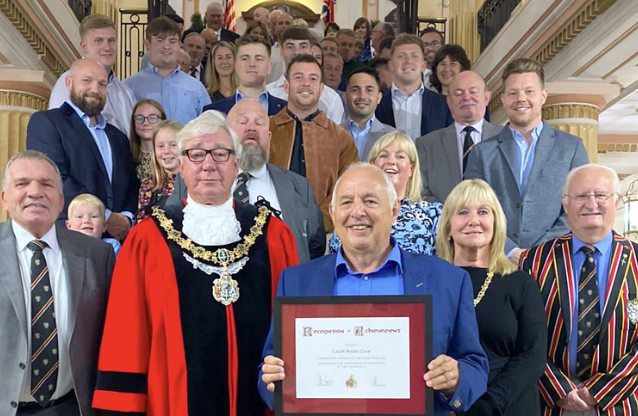 During the reception, the Mayor presented a special Certificate of Achievement on behalf of the Council and people of Wirral, to Graham Armitage, the President of Caldy Rugby Club.
Graham Armitage said: "Caldy Rugby Club celebrates its Centenary in 2024 and from humble beginnings our timing could not have been better, having recently achieved our highest ever ranking in the rugby fraternity. This will be a hard act to follow, and we now need to consolidate and build on this achievement both on and off the field."
Caldy start the new season in the Championship with a home game against Hartpury on Saturday, 10 September. For more information visit caldyrugbyclub.com